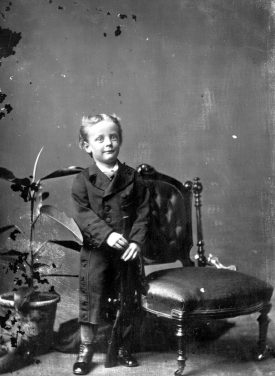 IMAGE LOCATION: (Warwickshire County Record Office) PEOPLE IN PHOTO: Bowyer as a surname
Reference: CR, 2555/24357a, img: 5210
This image is subject to copyright restrictions. Please see our
copyright statement
for further details.
Some of the photography archives at Warwickshire County Record Office (WCRO) are going to be the centrepiece for a new creative project with the public and volunteers, devised by artist Faye Claridge. With support from BBC CWR, the project will launch in January with a call-out for participants.
The Graham's Studio Collection is an extraordinary example of 19th century commercial portraiture and was discovered by accident, abandoned and damaged in a Leamington Spa cellar. More than 5,000 glass negatives were able to be saved and, despite being mostly anonymous and partially decayed, they give tantalising glimpses into lives of the past. These will be the starting point for the artist to work with Warwickshire residents who have a precarious sense of belonging. Found through the radio call-out, these could be people who grew up in care, residents applying for citizenship, asylum seekers and people struggling with memory loss.
Workshops
A series of workshops are being planned for February-April, in which participants will be guided with creative activities to explore the collection and how their experiences of belonging or dislocation might relate.
With support already secured from The Arts Council, the artist will work with the group to make portraits that merge the past with the present and to create a film sharing experiences. It's hoped these will tour to a number of prominent venues in Warwickshire later in 2022.
Faye Claridge
Faye Claridge is well-known for her heritage-related artwork and has recently worked connecting RHS archives with people in prison and National Trust collections with junior boxers. Her project We Bear is currently on display at The Herbert Art Gallery in Coventry, alongside the Turner Prize, showing artworks created in 25 prisons in the UK and US during lockdown, all in response to the Warwickshire chained bear emblem.
So, look out for the launch in January and subsequent updates that will be posted here by the artist throughout the project. In the meantime, if you'd like further information, these links might be useful: