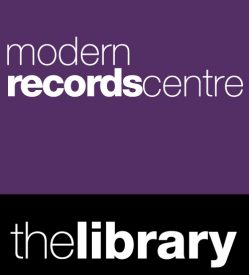 The Modern Records Centre was founded in October 1973 with the principal objectives of locating and preserving primary sources for modern British social, political and economic history. Use of the Centre is open to the general public and is free of charge.
The main strengths of our archive holdings are:
National records of trade unions and related organisations, including the Trades Union Congress and the Transport and General Workers' Union.
National records of trade associations, employers' organisations and related bodies, including the Confederation of British Industry.
Motor industry records, especially relating to companies formerly belonging to the Rover Group.
Records relating to cycling, including the National Cycle Archive.
Records of radical British political groups, particularly the British Trotskyist movement.
Records of pressure groups and other organisations concerned with social and penal reform, human rights, disarmament, education and health, including the Campaign for Nuclear Disarmament and the Howard League for Penal Reform.
Papers of individuals containing significant information on any of these fields, including those of Richard Crossman, the Labour cabinet minister and Coventry Member of Parliament, and Sir Victor Gollancz, the left-wing publisher and campaigner.
We also hold the Gurharpal Singh Archive, which is a substantial source for the history of the Communist movement in the Punjab from the 1920s to the 1970s, and the archive of the Minority Arts Advisory Service, dating from the 1970s to the 1990s. These collections were originally held on behalf of the former Centre for Research in Ethnic Relations at Warwick.