Friends of the Warwickshire County Record Office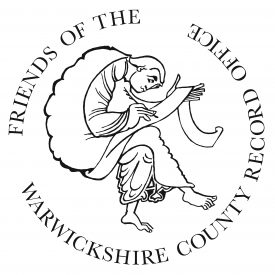 The Friends were founded in 1988 and charitable status was granted a year later. Our aims are to:
Support the work of our County Record Office.
Promote the education of the public through the use of historical records.
Join the Friends
Join the Friends to:
Attend talks on aspects of local history
Visit places of historic interest
Enjoy an occasional Summer buffet and an Autumn luncheon
Receive three newsletters a year to keep up to date with news from the Friends and the Record Office
To become a Friend of Warwickshire County Record Office please print out and complete the membership form. Send it, with your remittance, to:
Annual subscriptions:
Individual – £ 10.00
Family/joint – £14.00
Group/corporate – £12.00
There are now more than 200 Friends. Why not join us and enjoy these activities with like-minded companions? We look forward to meeting you.
County Record Office – Friends of Warwickshire County Record Office – Donations
We depend on donations to help purchase collections of historic records for the County of Warwickshire. Every donation is welcome, no matter how big or small.
Making a donation
If you would like to make a donation, all you need do is send a cheque made payable to the Friends of Warwickshire County Record Office. Please send it to the address below. If you are a UK tax payer and would like the Friends to treat your donation as a Gift Aid donation, please print and sign the PDF declaration form.
You can also make a donation when you visit in person, via the donations box located at reception.