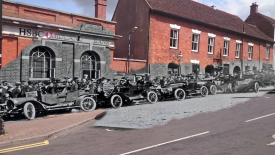 Coleshill Remembers is a community group established to commemorate the centenary of the First World War. We are researching all our local casualties of the Great War and trying to find out the effect and impact on our North Warwickshire town. There are more events planned but as an ongoing commemoration,. we conduct vigils on the 100th anniversary of the death of each of our 140 locals remembered on our four War Memorials. These include those who were born and raised in Coleshill, to those who attended the Coleshill Grammar School or were one time members of our Catholic Boys Homes.
Vigils
Each vigil is conducted by Coleshill's Sergeant At Arms at the Coleshill Parish Memorial at 8pm on the evening of the 100th Anniversary of their death. All are very welcome. The vigil ends with the church bell being rung half muffled 100 times.
The next vigil is on 23 April 2016 and will be remembering Corporal Cyril Coombs, Worcester Yeomanry.