Kenilworth Abbey Advisory Committee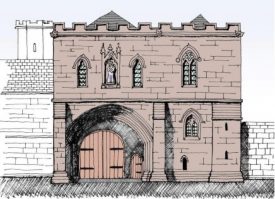 The Kenilworth Abbey Advisory Committee (KAAC) was originally formed in 1974 by the Kenilworth History Society (subsequently Kenilworth History and Archaeology Society) and the newly formed Warwick District Council. The Committee was described then as 'an independent voluntary body, comprising representatives from the Kenilworth Society, Kenilworth History and Archaeology Society, and the Town and District Councils'. It was reconstituted in 1987, under the chairmanship of Harry Sunley, with the immediate objective of reinstating the first floor in the Barn, which was accomplished in 1995.
Constitution
A constitution was adopted in 1996 and KAAC has continued to function ever since. In 2003 the area of the Scheduled Ancient Monument was extended to the whole of Abbey Fields. A Conservation Plan for Abbey Fields was published in 2005 by the Committee.
Harry Sunley Memorial Project
In 2015 the KAAC set up the Harry Sunley Memorial Project as a charitable incorporated organisation. The Harry Sunley Memorial Project's purpose is to upgrade facilities at the Abbey Gatehouse and thereby enable the public to see the interior of the building and the archaeological artefacts stored there.