Knowle Local History Society
From Knowle Local History Society Image Library
From Knowle Local History Society Image Library
Elaine Warner. From Knowle Local History Society Image Library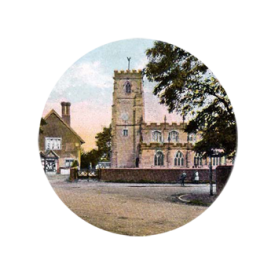 Knowle
Knowle is a large village on the A4141, mid-way between Birmingham and Warwick, which has grown from a small agricultural village into a residential community with a population of about 11,000.  Knowle has retained many of its historic buildings:  in the Square is the early 15th century church and Guild House; High Street retains the charm of a village atmosphere.
Knowle Local History Society
Knowle Local History Society is an independent organisation formed to promote the history of Knowle for the benefit of the residents of Knowle and the wider public. The Society runs a programme of meetings on local topics open to the public free of charge.  It holds a large digital record, including over 3,000 photographs, which provide a base for a wide range of activities: exhibitions, talks (available for other organisations), booklets and an inquiry service.  The Society maintains regular contact with local schools and libraries, village organizations and other local history societies, for which it provides a service when requested.
For readers' convenience direct links to a few of the main pages on the Society web site are shown below.  On the rare occasions when these do not work due to site restructuring please use the main link to the Society site (see above).
  About Knowle          Illustrated Talks for Organizations           Guided Tours          Publications