Image courtesy of warwickshirerailways.com
Image courtesy of warwickshirerailways.com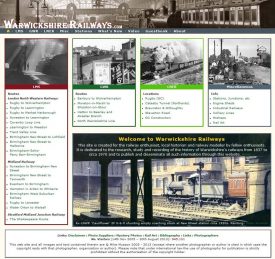 The Warwickshire Railways' website has been created for the railway enthusiast, local historian and railway modeller by fellow enthusiasts. It is dedicated to the research, study and recording of the history of Warwickshire's railways from 1837 to circa 1970, and to publishing and disseminating all such information through the website.
Started in 2005
The Warwickshire Railways website was started in early 2005 to help fellow enthusiasts and local historians to research, record and share information on the county's railways. In creating www.warwickshirerailways.com we have had to confront a number of issues, such as how to accommodate the number of border changes affecting the county over the last 150 years. This includes stations such as the L&NWR's and Midland Railway's stations in Tamworth which, when their stations were first built, were part of Warwickshire but later in 1889 ceded to the County of Staffordshire.
Previously part of other counties
The list also includes a number of stations from towns and villages which had previously been part of other counties such as Staffordshire and Worcestershire but after being absorbed into the City of Birmingham became part of Warwickshire (until 1st April 1974 when Birmingham became part of the new West Midlands Metropolitan County Council which was scrapped in 1986). Examples include Kings Norton, Bournville, Barnt Green, etc, on the Midland Railway's line to Gloucester. In all over 200 stations existed at one time, some very briefly within the County's border.
The website is also supported by a facebook page which is regularly updated and where people are invited to add their own comments, alongside videos, photos and other content.