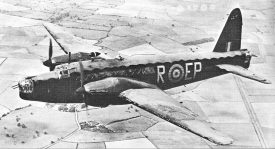 Image originally released by the Royal Air Force, and uploaded to https://commons.wikimedia.org/wiki/File:WellingtonBomber.jpg
I have shared a picture of my Great Uncle Michael Joseph Stewart Kerby / Stewart Michael Kerby, along with the report of his death. During World War Two he was based at the airfield in Wellesbourne Mountford, Warwickshire.
All I know is that he was training pilots during a night time exercise.
Caught fire on impact
On the 12th May 1943, my Great Uncle was a member of the crew in a Wellington bomber (HE218). During a night cross country exercise, and on the return trip to the OTU base at RAF Wellesbourne Mountford, one of the engines cut out.
At approximately 01:00 hours the aircraft dived into ground close to the Compton Verney lakes. The Wellington caught fire on impact with all the crew, uncluding my Great Uncle, killed.
If you have any information, it would be greatly appreciated.