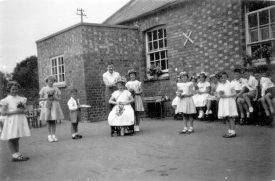 IMAGE LOCATION: (Warwickshire County Record Office)
Reference: CR, 1586/36/1, img: 8983
This image is subject to copyright restrictions. Please see our
copyright statement
for further details.
It was a joy to read Alan Griffin's article about RAF Gaydon, thanks for writing about it. I have great childhood memories. My dad was stationed there '63-'66. He worked on electronics maintenance of the V bombers. After all these years, I still remember he worked on "NBS 3rd line", something he told me to remember at the time, should I ever have an accident. I eventually did have an accident, having got carried away playing British Bulldog and running into a solid cement post, military grade of course! I was completely knocked out!
Looking up
My dad also played in the station band. Occasionally they would play at nearby village fêtes etc. I attended Gaydon County Primary, as it was called at the time. We used to stop in the playground and fields and look up whenever a bomber flew over the school. On one occasion, one of the bombers surprisingly had the bomb doors open, and a schoolmate shouted out "look, it's carrying a Blue Steel missile". Amazing how some memories get lodged in your brain for so many years.
Burton Dassett?
I also have very fond memories of biking down to Lighthorne Village, Wellesbourne, Gaydon Village, Kineton, Chesterton, and to Leamington Spa. I also have a faint, but possibly incorrect memory of biking to Burton Hills. Would that be Burton "Dassett" Hills? There was a very steep hill to reach the top, and once there, the view was neverending, and it was always quite windy – great for kite flying.
Is it still possible to obtain an embroidered RAF Gaydon badge?