With Britain's nuclear capability moving from aircraft to the Polaris submarine in the mid nineteen sixties, the V bomber force became obsolete and Victor and Valiant training at RAF Gaydon ceased in June 1965. All formal flying at the base came to an end following the departure of the Air Navigation School for RAF Finningley in May 1970.
Transit camp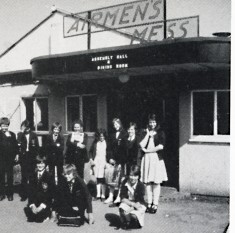 After closure, some of the Gaydon domestic quarters were used as a temporary transit camp for families from Uganda and other overseas countries who had been displaced from their homes by war and civil strife.
In 1975, the 850 pupils of Southam High School were accommodated there for 12 months following enforced evacuation from their Southam building, which had been declared unsafe due to to the high alumina cement used in its construction. Jim Skinner, headmaster at the time joked that he knew of no other school anywhere in the world which could land Concorde within its grounds! Jim knew that in earlier times the long Gaydon runway had been one of a small number of designated emergency landing strips for Concorde during the aircraft's test flights. For a period, the airfield was also considered as a likely site for the third London airport when plans for the expansion of Heathrow and Gatwick were being hotly debated.
Postscript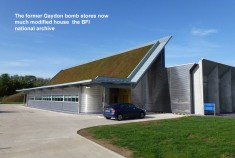 In 1978 the airfield was bought by British Leyland who developed the site as a proving ground, transforming the old runway into a high speed test track. The Heritage Motor Museum now occupies part of the site and Aston Martin, Jaguar and Land Rover each have extensive research and production facilities there.
The former high-security bomb stores at Lighthorne have been adapted as a store by the British Film Institute and now house the BFI National Archive, one of the largest film archives in the world where irreplaceable and highly flammable early nitrate films are stored for posterity.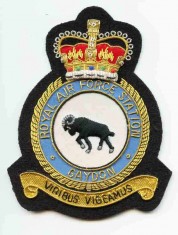 Sources/Acknowledgements
RAF Gaydon :An information Handbook for station personnel. Undated but circa 1966
RAF Station Gaydon 1942 – 1945. Privately published by Barry Hope – undated
Royal Air Force Gaydon: A brief history. Published by British Motor Industry Heritage Trust [2001]
Cold War: Building for Nuclear Confrontation 1946 – 1980. English Heritage [2004]
Southam School 25 years. Edited E M Rumary & G A Hayward
Fly Past magazine June 1982
Leamington Spa Courier
Tony Cunnane (Ex RAF Gaydon instructor)
The late Jack Pratley (Wellesbourne)