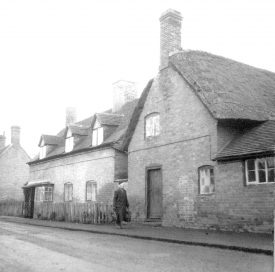 IMAGE LOCATION: (Warwickshire County Record Office)
Reference: PH, 146/4, img: 10354
This image is subject to copyright restrictions. Please see our
copyright statement
for further details.
I have already looked at some shops in part one. In part two, I shall recall some more memories.
On the Kineton Road, near to the King's Head pub, West's Bakery, is still there. Over the road was a butcher's shop, that seems to be all boarded up now. Next to West's was a wine store. We used to go there on a Friday night after scouts. On the other side of West's is now a row of shops. Although I do remember there being a hardware shop before that in the 1970s. There was a double barrel shotgun in the window. Near there, up the Warwick Road on the opposite side, was a house with a tree which had grown in a peculiar way on the front garden. The occupant painted it in such a way to make it look like a giraffe. Sadly it has long since gone, but had been there for a long time beforehand
The newsagent used to be up Chapel Street. Where it is now seems to be an ordinary dwelling house with a lot of old fashioned cameras in the window. On the opposite side of the road, moving up, was also another VG store and a butcher's shop. They are both now gone. The doctors' surgery was also around there somewhere, before Hastings House was built. Where the post office is now is where it was when I still lived there. In between that and the river bank was a white wooden building, which was an antique shop. It became a shoe shop briefly before the building went altogether.
School in Wellesbourne
I did go to the primary school in Wellesbourne. Whilst I was there, they built a satellite school building nearby for the infants although when we were there, we did seem to spend a lot of time walking to and from the main building. They did have a playing field at both schools, although the one at the new building was laid with grass seed rather than turf, which would obviously take longer to get to a usable state. This meant that we could not use it at break time during the summer, which disappointed us all!
Where Orford Close now is was where there was a scout hut and a council depot. I first went to the scout hut when I was about three years old as it was a play school. I quite enjoyed it (more so than real school!). Later I went there when I was in 1st Wellesbourne Hastings cub scout pack. Running perpendicular to the Kineton Road was an alleyway which ran down the side of the council depot, turned at right angles and ended up in School Lane.
A jasper!
A word which we used in Wellesbourne for a wasp was a "jasper". Where it came from, I do not know. I was quite surprised when I found out that it was not a universal term!