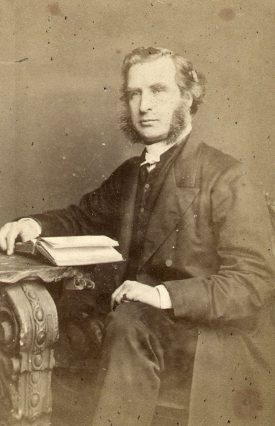 IMAGE LOCATION: (Rugby Library) PEOPLE IN PHOTO: Hayman, Dr Henry, Hayman as a surname
Reference: T, B HAY, img: 7662
This image is subject to copyright restrictions. Please see our
copyright statement
for further details.
John Moultrie is probably Rugby's most gifted and prolific 19th century poet, though now rarely read and to most not even a vaguely remembered name. He was an upholder of Victorian public morals – so much so, perhaps, that they sometimes overshadowed his Christian precepts. Moultrie was both poet and priest for much of his adult life; in fact his early poems were written while still at Eton College, and published in that school's magazine.
Londoner by birth
He was a Londoner by birth (30th December 1799) whose boyhood was first spent in Shropshire. However he was of Scottish descent through a great-grandfather who had emigrated from Fifeshire to the British American colony of South Carolina. After preparatory schooling he entered Trinity College, Cambridge in 1819, where he took his degree in 1822 before entering Middle Temple to start a law career. However, he was recommended as tutor to Lord Craven's three sons at Eton, which gave him the breathing space to marry and change his career.
He had been considering the Church the year before he graduated, and in 1825 accepted the living as Rector of Rugby from Lord Craven. He was ordained an Anglican deacon and priest in the same year. He had been attracted to a young lady for some time, which had inspired some of his poems – but 1825 saw him marry Margaret Fergusson who inspired more love poems and sonnets. The couple did not reside in Rugby until 1828 after the rectory had been rebuilt; it was to be their home for the rest of their lives.
One of Moultrie's curates was the Rev Edward James Rhoades, who did not have Moultrie's family and social connections. He had taken his degrees at Oxford (BA 1857 and MA 1859); in the latter year he was ordained deacon, and priest in 1860. Curates then often spent many years and even their whole lives in one parish, and Rhoades worked hard in Rugby until 1873 when he resigned due to a difference in a matter of principle with Moultrie.
Thomas Arnold
Thomas Arnold took up residence as headmaster of Rugby School just before Moultrie was appointed rector, and they agreed on many matters. Although Moultrie became a firm Rugby figure during the years, headmasters came and went. Some, such as Arnold, had favourable reputations (justly or unjustly) which followed them into their later careers. Others were minor stars as Rugby headmasters, but their reputations did not survive.
One, indeed, became headmaster in face of the school staff's opposition, and left humiliated and in some disgrace. This was Dr Henry Hayman, born in London in 1823. He graduated BA in 1845, MA in 1849, and BD in 1854 all at Oxford. In 1870 he was awarded his DD. He was a high churchman1. Certainly Hayman was sacked in 1874 with perhaps some justification (although he was not the only person to blame for the worsening situation in the school), but this was a school matter and not really Moultrie's.
1 In contrast with Moultrie's friend Arnold, who indeed publicly opposed Hayman's appointment as headmaster in 1870.