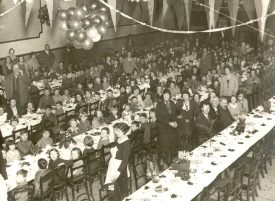 IMAGE LOCATION: (Rugby Library) PEOPLE IN PHOTO: Robbins, Sam, Robbins as surname
Reference: T, 366, img: 5974
This image is subject to copyright restrictions. Please see our
copyright statement
for further details.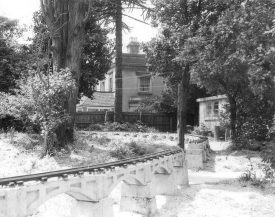 IMAGE LOCATION: (Rugby Library)
Reference: T, 727.97.13, img: 6228
This image is subject to copyright restrictions. Please see our
copyright statement
for further details.
In part one, we looked at Sam Robbins' roots and the journey from humble beginnings to a flourishing business empire in Rugby. Here, we look at the legacy he left in the community.
A figurehead of the community
Sam Robbins seems to have been happy to give back to the community in which he had become established, and allowed his properties to be used for various community endeavours. For example, in 1913, his offices were used by a representative of the Western Australian Government to approve applications to travel by steamship to that distant continent. On another occasion, Sam Robbins used his skills as an auctioneer to conduct an auction of 'oddities' on behalf of a student RAG fundraising event in 1931.
He also participated in the war effort, supplying the Northamptonshire Yeomanry 'with five " Triumph " 3-speed motor cycles, and also with 15 " B.S.A." bicycles'. As a member of the Urban District Council, he is reported as being on the platform to see the departure of the Rugby Infantry Company to war. He did his bit for refugees as well, offering to collect and deliver goods such as 'beds, chairs, chests of drawers, carpets, lamps, linen, etc' for the use in Newton House for the accommodation of 24 Belgian refugees. His wife is recorded as donating gifts to help the refugees at Christmas 1914.

'Most conveniently and pleasantly situated'
Sam Robbins spent the rest of his days living at Paddox House on Dunsmore Avenue.
I have to confess that this is where my interest in Sam Robbins was piqued, because I grew up in the very same house. In fact, my and my sister used to joke that he died in the bedroom she slept in, and that we saw his ghost haunting the stairways. It didn't help that the date of his death (15th February) was also her birthday.
We've been lucky enough to have been left some old photographs of the house and of Sam Robbins living there, which we gifted to the Rugby Museum and Art Gallery. We think the house itself is Georgian, and in former years it was owned by various brothers and uncles of the Cooper family of Markree Castle in Ireland. My favourite feature of the house has to be the beautifully moulded ceilings. I wonder if Sam Robbins also liked to gaze at them whilst sitting by a roaring log fire of an evening? We do know that he held regular Bridge Parties at the house, and when he passed away, he requested evergreen leaves and flowers from the garden to be placed around his grave.1
In 1912, when Sam Robbins conducted the auction for the new building estates at Hillmorton Paddox (including Dunsmore, Moyeady, and Rainsbrook Avenues), he 'pointed out that this is most conveniently and pleasantly situated in one of the most healthy and nature-endowed spots of Warwickshire'. What excellent taste he had, I must say!
Who wants to be a millionaire?
Sam Robbins left quite a legacy. After his death in 1933, the Rugby business was kept in the family line through his daughter Margaret Ella Shotter née Robbins. It lasted until 1987, when the business finally ceased trading. As the Rugby Advertiser at the time put it, 'an era in local trading [had] come to an end.'

When he died in 1933, Sam Robbins was in the lucky position to have effects worth £25008 and 9 shillings to leave to his two children.2 That's over £1.5 million in today's money! From a family of servants and farmers, with an illegitimate and abusive father, Sam grew up to develop a thriving business empire and to give something back to his community. And dear old Rugby is where it all happened.
References
1 Barbara Witt, 'Samuel Robbins, Esq.', in Aspects of the Past 3 (Rugby Local History Research Group), 31-32.
2 National Probate Calendar, Samuel Bevan Robbins, 11 Apr 1933.