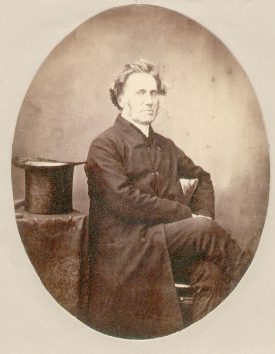 IMAGE LOCATION: (Rugby Library) PEOPLE IN PHOTO: Moultrie, John, Moultrie as a surname
Reference: T, B MOU, img: 7685
This image is subject to copyright restrictions. Please see our
copyright statement
for further details.
The disagreement between Rhoades and Moultrie came out of the blue on Christmas morning 1872 when the rector wrote a peremptory note to his curate:
Dear Rhoades, I find that a strong feeling has been excited by Dr. Hayman having been asked to preach in the Parish Church, especially on such a Festival as the present. May I request that until Dr. Hayman shall have vindicated himself to my satisfaction from the strong and marked reproach under which he lies at present, you will not repeat the invitation. I regret that I did not warn you against doing it. Yours truly, J.Moultrie. Will you kindly communicate the contents of this note to Mr. Allen [brother curate].
One might have assumed that the Festival of Christmas would have been an occasion for Christian fellowship, especially between three ordained ministers of the Church of England, but it was not to be.
Moultrie's message
Moultrie's message arrived together with a note from his daughter Amy to say that her father had told her to write that he himself would preach at the afternoon service. These two notes put Rhoades in an invidious position and he immediately sent a note of resignation to Moultrie, who then wrote bleakly to Hayman:
The Rector regrets to hear that Mr. Rhoades has asked Dr. Hayman to preach in the Parish Church this Afternoon. It is the Rector's intention to preach himself.
Moultrie immediately accepted Rhoades' resignation, who then published their correspondence as well as the rector's later letter of explanation to Hayman. My copy of these two pages, endorsed "for private circulation", are the source of our knowledge of this long forgotten affair.
The rector's wardens at both the parish church of St Andrew and of Holy Trinity church also resigned over the matter. In Rugby itself there was doubtless some difference of opinion, but I have a contemporary two-page handwritten copy of a document which reads:
To The Reverend Edward J. Rhoades MA Senior Curate of Rugby, January 1873. We the undersigned beg to offer you our most cordial sympathies under the unhappy circumstances which have caused you to resign your Curacy. We assure you that your services at Rugby extending over a period of fourteen years will ever be gratefully remembered by all in and around Rugby and we beg to offer you our best wishes for your future welfare.
Seventy-six names were appended, including well-known townsfolk such as Mathew Bloxam, Allesley Boughton Leigh, Charles Caldecott and George Benn.
Out of a job
No doubt this tribute slightly cheered Rhoades, but naturally, in a disagreement with the well-connected Moultrie, he would be viewed with some doubts by the church hierarchy. He was out of a job, and it is unclear what he did for the next few years. Eventually, in 1878 the Bishop of Worcester appointed him to a living as Vicar of Elmley Castle with Netherton, serving a population of 374. The moral of this forgotten tale is that it doesn't pay to cross well-connected poets whose love has grown cold – although loving your neighbour may possibly help you through the pearly gates.