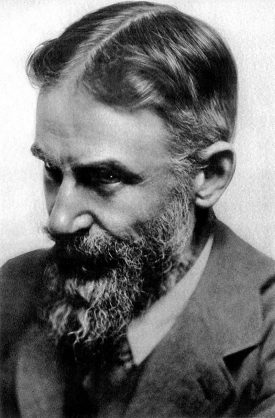 Image originally published in New York Times, Current History, Vol 1, Issue 1 From the Beginning to March, 1915 With Index, and uploaded to Wikipedia.
Women's Suffrage is better known today through images of Emmeline Pankhurst (who had read pamphlets authored by Shaw during her period of imprisonment in 1912), and militant acts such as Emily Davison being trampled to death by the King's horse Anmer at the Derby of 1913.   In the early years of the movement, Warwickshire writer, historian and political activist, Mary Dormer Harris took a gentler approach and wrote to playwright George Bernard Shaw seeking his support for the cause.
This picture shows the reply1 from Bernard Shaw, sent on 11th April 1906.  The letter reads as follows:
Dear Madam,
I considered your suggestion carefully, but concluded that I had better leave the matter in the hands of the Labour Party, who understand the matter fully well, and are not, I should imagine, fond of being prompted in their parts too publicly.  Besides, I have done so much campaigning on the subject in the past that my views are somewhat stale, not to mention that I have a reputation for singular and extreme opinions, and that it is very desirable that Women's Rights should not be associated with anything out of the normal common sense run.
Thank you, all the same, for the suggestion.
Yours faithfully,
G. Bernard Shaw
A literary figure, drama on the stage and in politics
Taking Mary Dormer Harris's life in a broader framework, it was no surprise that she should write to George Bernard Shaw asking for support for such a cause as women's suffrage.  As a member of the Leamington and Warwick Dramatic Study Club, she was one of the first to perform at the Loft Theatre in Leamington and saw her own plays performed during its formative years, along with a number of George Bernard Shaw's.
Dormer Harris would have known of his depiction of strong women characters from his plays, and indeed in 1891 he had written, "unless woman repudiates her womanliness, her duty to her husband, to her children, to society, to the law, and to everyone but herself, she cannot emancipate herself. It is false to say that woman is now directly the slave of man: she is the immediate slave of duty; and as man's path to freedom is strewn with the wreckage of the duties and ideals he has trampled on, so must hers be."
An active member of the Fabian Society and, thus, involved in the formation of the Labour Party, it is perhaps surprising that Shaw refused Mary Dormer Harris's request.
Mary Dormer Harris and Women's Suffrage
This letter is a fine example of Mary Dormer Harris's political beliefs. A staunch supporter of the women's suffrage movement, she supported the National Union of Women's Suffrage Societies (NUWSS) and was reported as attending the second meeting of the Leamington and Warwick Women's Suffrage Society in 1906.  Many years' later, in 1913, Mary Dormer Harris was still attending meetings arranged to further the cause of women's suffrage.
The wider context
As with many political movements however, there was a wide spectrum of beliefs and action, and Mary Dormer Harris belonged to the more moderate wing of the Suffrage cause. With marches taking place in Leamington and Warwick in the early years of the 20th Century, it is clear that the cause attracted support and drew attention as much in Warwickshire as elsewhere.
References
Crawford, Elizabeth (2000) The Women's Suffrage Movement: A Reference Guide 1866-1928. London; New York: Routledge
Field, Jean (2002) Mary Dormer Harris: The Life and Works of a Warwickshire Historian. Studley: Brewin
1 Warwickshire County Record Office CR3874/1/11
This article was Document of the Month for the Warwickshire County Record Office in September 2013. Further articles can be found on their website.