Friends of the Anti-Aircraft Battery at Goodrest Farm (FAAB@GRF)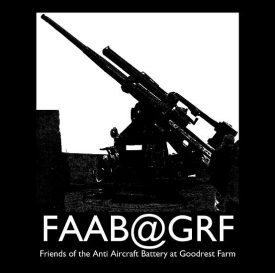 The Friends of Anti-Aircraft Battery at Goodrest Farm (or FAAB@GRF for short!) is a group of volunteers who aim to develop the Anti-Aircraft Battery at Goodrest Farm as a historical and education resource for all. We also would like to see it commemorate the brave men and women who served in batteries like this, up and down the country.
This battery is the last of the ring of AA Defences for Coventry and was built after the Coventry Blitz on the night of 14 November 1940. It is situated on private farmland and not generally accessible, but FAAB@GRF hold Open Gate Days and other events to teach local schools and the public about its important role in WWII.
The camp which was situated nearer to Goodrest Cottages housed the soldiers and ATS women that worked at the Battery. Later in the war, after the guns were removed, this became a Prisoner of War camp for Italian prisoners and later Germans. FAAB@GRF is an independent volunteer group, working in partnership with Leek Wootton History Group.