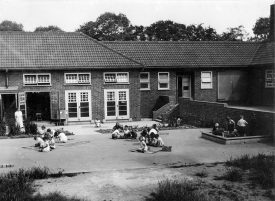 IMAGE LOCATION: (Warwickshire County Record Office)
Reference: PH, 220/204, img: 4397
This image is subject to copyright restrictions. Please see our
copyright statement
for further details.
When I was a child I would meet up with a small group of  four or five of my friends who lived around my street as everyone knew each other – we would play games in the road like hopscotch with chalk. There were no cars on the street back then, so it was a lot safer and we could play out as long as we wanted to.
There was also an air raid shelter by the railway up the street from where I used to live, that I would play in. I remember one day when I was climbing on the shelter, I fell off and cut my leg open. My mum called an ambulance for me from the telephone box on my street and they took me to the George Eliot hospital where I had seven stitches. Later on some of the stitches came undone; you can still see the scar on my leg and it always reminds me of that day.
Another part of my childhood that I remember clearly  is during the cold days in winter we use to get ice on the inside of our windows. In the winter months, I also had was to get up early in the morning and put coal on the fire. Another chore I had was to regularly sweep the chimney throughout the year to keep it clear, as you were fined for having a chimney fires.
The Scouts and racing cars
I was a part of the Scouts 52nd Patrol within Hartshill and remember that we had to wear a green and yellow neckerchief, it was also important that a neckerchief was fastened so I had a Scout Woggle. I still remember the Scouts code to this day and try my best to abide by it. Another group I was a part of when I was a teenager was the Black Horse Cycle Speedway based at Spencer Park. I liked cycling but I also enjoyed watching motorcycle racing.
My love of motorcycle racing probably contributed to my love of cars. My first car was a Morris 1000 Quarter Van that I got in the 1960s, when I sold that I went more upmarket and bought a Morris Traveller that was cream coloured. Looking back I wish I had kept my Morris Traveller as it would be worth a bit nowadays but I sold it when I changed jobs as they gave me a work van and I didn't need two vehicles.
Coventry Colliery
One of the most memorable jobs I had as I got older, was working at Coventry Colliery in the 1960s. My working days at Coventry were long, as my shifts were in the day, afternoon and at night, this contributed to an irregular sleep pattern and I rarely got today's 8 hours recommended sleep.
I worked at the Colliery for five years as an Underground Electrician which involved going down into the mines everyday using the pit-shaft. I trained to become an Underground electrician at Daw Mill Pit in Arley and worked at a range of mines around the County, not just Coventry Colliery. Another mine I was familiar with was Nursery Hill in Ansley Common however it has now just become a large pit in the ground.
Working at Coventry Colliery was an enjoyable experience and there were many perks that came with the job like being given a coal allowance, which could I would use to heat my house. However the mining Industry around Hartshill Hayes has gone. A lot has changed over the years in Nuneaton; even my old primary school was demolished.
This article was published as part of the Warwickshire in 100 Objects project, part of Warwickshire Bytes.