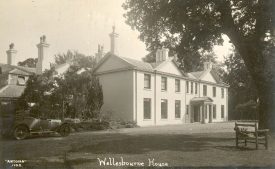 IMAGE LOCATION: (Warwickshire County Record Office)
Reference: CR, 2649/8, img: 8446
This image is subject to copyright restrictions. Please see our
copyright statement
for further details.
Daisy had a very compassionate heart, but Willy tried to dissuade her from doing charitable work. However, Daisy unobtrusively carried on with her kindhearted ways and contributed greatly to Warwickshire life. She was a frequent visitor to the Stratford-upon-Avon workhouse where she would visit the destitute men and women housed there. A woman in Wellesbourne had contracted leprosy, and was shunned by the other villagers. Daisy's concern caused her to quietly disappear one day each week, so she could visit with this neglected woman.
Compassion
Another instance exemplifies Daisy's tremendous compassion. One Sunday morning when coming home from church, she found a tramp outside the gates of Wellesbourne House. She could tell he was cold and in a very poor way. She urged the man to come with her into the kitchen. He refused, but Daisy brought him a tray with some tea and bread. The man didn't want to take it because he was convinced it was poisoned. Daisy continued to coax him until he ate some of the bread and drank some of the tea. She took the tray back inside the house, but when she returned to check on the man, he had vanished.
The next day he was found a few miles away dead from exposure. She soon learned that he had escaped from a mental institution. Daisy was inconsolable over the incident, since she blamed herself for this man losing his life. Daisy Low always showed her benevolence to those less fortunate.
Because Willy was away so much on hunting trips, racing his horses, or gambling with his friends, Daisy started to feel the loneliness. She had been an artistic soul from an early age and delved into a variety of pursuits to take up the time whenever Willy was absent. Daisy had already proved herself to be an excellent portrait artist, but she branched out into other endeavors.
Woodworking and metalworking
She took up woodworking and carved a beautiful mantel for Willy's smoking room, along with other ornamental pieces for her home. Then she took to metal working. It's not for certain who taught her how to forge, but it's suspected that the village blacksmith John Thomas Thorpe was the one who instructed her. She took on a major endeavor by designing and then forging the gates for the entrance to Wellesbourne House. Those original gates were later shipped to Savannah to be placed at the entrance of Gordonston Memorial Park, which was named in honour of Juliette's parents. However, replicas made from Daisy's design still hang at the Wellesbourne House entrance.
The previous article looked at her marriage and move to Wellesbourne House, whilst the next examines her leaving Wellesbourne, and meeting Baden-Powell.