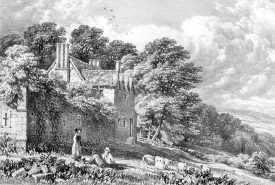 IMAGE LOCATION: (Warwickshire County Record Office)
Reference: CR, 351/109, img: 3620
This image is subject to copyright restrictions. Please see our
copyright statement
for further details.
To me Warwickshire has always felt like border country, the end of the southern half of Britain. This is marked by the old Roman highways of Watling Street from London to Holyhead, which intersects with the Fosse Way from Exeter to Lincoln, in Warwickshire. I am sure that both Michael Drayton and William Shakespeare would have travelled down Watling Street to London. Warwickshire is seen as both the heart of England by Drayton but also as the crossroads of the island of Great Britain:
Betwixt S Michaels Mount and Berwick –bord'ring Tweed, Brave Warwick;
(13th Song, Poly-Olbion, Drayton)
A good walk
Hours of loping and strolling in all weathers have been some of the happiest of my life. A good walk in the woods and by a river is the greatest therapy especially from one's own front door. Yet, sadly, it is the least wooded county in England, despite the world-renowned Forest of Arden (of which little remains):
In her rough wood lands more than any other ground
That mighty Arden held even in her height of pride;
Her one hand touching Trent,
the other, Severns side
(13th Song, Poly-Olbion, Drayton)
Thankfully it is its ancient rivers which act like oxygenating arteries, invigorating the overworked fields and decimated woods of the Midlands. This "Shire which we the heart of England well may call" (Drayton) has confounded and enchanted me.
An ancient land
It is an ancient land from Edgehill on the Feldon north of Banbury to Oldbury Camp on Hartshill. Both hills echo that time of revolution, our Civil Wars, from the first battle, a scruffy draw where the King and Parliament first spilt blood, to Hartshill which overlooks the battle site of Boudicca's last stand (allegedly).
Hartshill is also the birthplace of Michael Drayton, born in 1563. He started out as a servant to landed gentry at nearby Polesworth but became court poet to their majesties Queen Elizabeth and King James. To curry favour with the King, he wrote a topographical and historical masterpiece known as the Poly-Olbion in 1613. In verse, it told the topology, mythology and geography of each county in England and Wales. His nature poetry is joyous, showing his love for nature and its inherent sacredness.