RAF Gaydon came into use in June 1942 initially as part of no 12 Operational Training Unit (OTU) operating twin-engined Vickers Wellington bombers crewed mainly by Canadians. Its primary function was the training of crews on the Wellington (known throughout the RAF as 'The Wimpey') prior to their posting to operational squadrons.
Wartime operations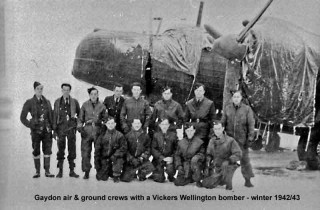 Apart from the round-the-clock training flights, the Gaydon aircraft were flown on a number of sorties during Operations Grand National and Starkey against the Pas de Calais area in 1943. Crews were also engaged on a regular basis in what were called 'Nickel Raids' to drop leaflets over enemy-occupied France. This was standard practice for crews at the end of their course so that they could gain operational experience with minimal risk. Flying training ceased at Gaydon on 1st July 1945. During the war years, twenty-three of the station's aircraft had been lost along with forty-seven aircrew including two members of the Belgian SAS. Many of the aircraft crashed within a few miles of the airfield.
Glider training school
Gaydon was briefly occupied by No 3 Glider Training School but was then put on to a Care & Maintenance basis until 1953 when major re-construction work was carried out on the base. John Laing was the main contractor for the construction of what was, in most respects,a completely new airfield with a runway 9,000 feet in length.
In the next article, I go on to discuss Gaydon's time as a V bomber base.
Sources/Acknowledgements
RAF Gaydon :An information Handbook for station personnel. Undated but circa 1966
RAF Station Gaydon 1942 – 1945. Privately published by Barry Hope – undated
Royal Air Force Gaydon: A brief history. Published by British Motor Industry Heritage Trust [2001]
Cold War: Building for Nuclear Confrontation 1946 – 1980. English Heritage [2004]
Southam School 25 years. Edited E M Rumary & G A Hayward
Fly Past magazine June 1982
Leamington Spa Courier
Tony Cunnane (Ex RAF Gaydon instructor)
The late Jack Pratley (Wellesbourne)