The Coventry Tree Warden Network (CTWN)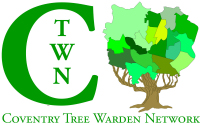 In early 2013 Coventry City Council decided to join the Tree Council and promote the formation of a Tree Warden group in Coventry. Several meetings were then held to gather support, prepare a constitution and elect a committee.
The Coventry Tree Warden Network (CTWN) was finally constituted in the Spring of 2014. The objectives of the group is to raise the profile of trees and hedgerows around Coventry and its environs:
Tree Wardens can get involved with a range of activities, from practical projects such as planting and caring for trees to gathering information about local trees and developing imaginative projects to encourage others – including schoolchildren – to value their local trees and woods.