Warwickshire Tourism Service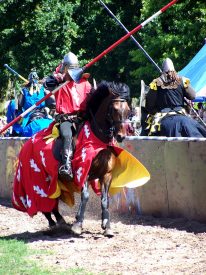 Warwickshire is a county known for its leafy lanes, sleepy villages, and the bustle of its vibrant market towns. Warwickshire's heritage stretches back for centuries as you would imagine – as you will find on a visit to Roman Alcester, the castles at Warwick and Kenilworth, Shakespeare's Stratford, Northern Warwickshire's links with George Eliot, or Rugby's sporting history.
Warwick, the County Town
As befits the county town, Warwick is an active, lively place. Visitors can explore the wonders of a Jacobean mansion, visit its famous castle, and learn about the Royal Warwickshire Fusiliers. Warwick itself is home to Heritage and Culture Warwickshire. The organisation provides a wide range of services that help local communities and visitors to connect and engage with their local heritage. The attractions maintained by the organisation include two museums (St John's Museum and Market Hall), the County Record Office in Warwick, and the iconic Chesterton Windmill. St. John's House is one of Warwick's most illustrious historic sites. It is built on the site of a 12th century monastery, and has been used as a house, an infirmary, and even a school. Since the 1960s, it has been a museum illuminating Warwick's social past.
Inside the museum you can find all sorts of fascinating objects; from toys and clothes, to games and kitchen utensils. There is a special 'discovery room' for under-fives, and a formal garden that is ideal for picnics. On the first floor is a museum dedicated to the Royal Warwickshire Fusiliers.
Warwick Castle itself has been visited by Kings and Queens throughout the centuries. Attractions such as the Castle Dungeon and Merlin – The Dragon's Tower offer a heady mix of fun and history. On your visit, don't forget to walk through the picturesque Victorian rose garden.
Warwick hosts many festivals through the year, including Warwick's folk, and literary festivals. Literary links to Warwick include Tolkien, Philip Larkin (whose parents moved from Coventry to a house in Warwick during the Second World War), and Walter Savage Landor, poet and prose writer. The literary has many activities available, including story writing and telling sessions, authors' readings and performances, discussions, lectures, and tours.
Kenilworth
Castles also play a major part in the landscape of nearby Kenilworth, whose imposing red sandstone Kenilworth Castle dominates the town. The vast medieval fortress of Kenilworth Castle is one of the most spectacular castle ruins in England. The castle was ruined after the Civil War in 1644, but the 12th century keep and Norman walls remain. The ruins are best known for Queen Elizabeth I's visit in 1575 and Robert Dudley, owner of the castle, made many modifications and renovations for the visit. Evoking this period of history is the newly re-created and unique Elizabethan Garden, lost for 400 years, that is now open to visitors.
Leamington Spa
Leamington Spa is one of only three towns in England with the 'Royal' prefix, and was granted this title by Queen Victoria. Anybody visiting the town in the present day can enjoy the splendid Regency architecture, but also its wide range of shops. Taking a break from shopping, visit the Pump Rooms, which now houses a museum and art gallery. One of Leamington's claims to fame is that the first tennis club in the world was formed in Leamington by Major Henry Gem and Augurio Pereira in 1872. It was located just behind the former Manor House Hotel, and the modern rules of lawn tennis were drawn up in 1874 at Leamington Tennis Club.
Rugby
Rugby's fame stretches across the globe as the birthplace of rugby football, yet is also a bustling market town, a key Railway junction, and also boasts of a grand literary heritage, and a fine scientific legacy. Visiting the town, an introduction to its charms can be had by following the heritage trail. A visit to Rugby would not be complete without popping in to the Rugby Art Gallery and Museum, home of contemporary art and an important museum collection. The Rugby Football Museum is housed in the original building where William Gilbert made the first of his world-famous rugby footballs in 1842. The town is home to the famous Rugby School, whose reputation is founded on Thomas Arnold's zeal for education,. Its fame stretches far owing to the popularity of Thomas Hughes's Tom Brown's Schooldays, and was also attended by literary giants like Rupert Brooke and Lewis Carroll. Rugby School is private property, but visitors are welcome to join the regular school tours which run twice a week.