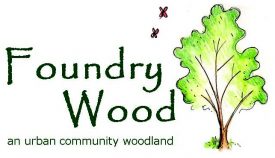 Foundry Wood is a managed access community woodland. Through volunteer work parties we have made the site accessible by creating paths and facilities for all to use. Now the woodland is open most days for you to enjoy this unique natural environment.
From forest schools
From forest schools to heritage walks, craft workshops, nature trails and much more, Foundry Wood has a range of activities and interests to suit all ages.
Regular groups and activities
Foundry Wood hosts a growing number of regular groups and activities. These include monthly volunteer days, fortnightly forest schools, weekly ecotherapy session and a nature club. There is also a programme of workshops for adults and children, with special children's sessions organized during school holidays. The current programme is available on the website, where you can easily sign up to receive our regular newsletter.
Visiting Foundry Wood
The nearest car park is located at Victoria Park – just across the road – and it's free! The X17 bus stops on Princes Drive. We also have a bike shelter just inside our gates, so we encourage visitors to walk or cycle to the woodland if possible.