Warwickshire Geological Conservation Group (WGCG)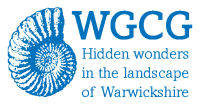 Warwickshire Geological Conservation Group (WGCG) was established in 1990.
This was by few enthusiasts who wanted to raise awareness of and conserve the many rock exposures dotted around the county. The membership has since grown and includes many enthusiastic amateurs, students and teachers as well as some professional geologists.
The group has three major aims:
To inform – Learn about our rocks, minerals and fossils and how the geology has shaped our landscape.
To conserve – Help to conserve Warwickshire's natural heritage by joining one of our work parties to improve the conditions of our valuable sites.
To encourage – Above all, we hope you will want to share in the passion of learning all about our fascinating geology and caring for it in a practical way.
Funds available to take your school to The Lapworth Museum
This grant in particular, is available to primary schools within the historic boundaries of Warwickshire, including Coventry and Solihull, to be used to cover the cost of transporting one class group for a free taught and pre-booked visit to The Lapworth Museum, Birmingham University. The number of pupils to be agreed with The Lapworth when you book.
Information links and application form is found at this link.