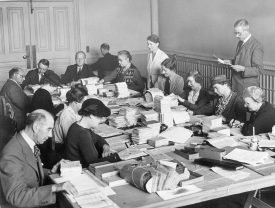 IMAGE LOCATION: (Leamington Library)
This image is subject to copyright restrictions. Please see our
copyright statement
for further details.
During World War Two I lived in Yardley, Birmingham and experienced many bombing raids on the city.
Rationing
Food was very strictly rationed.   One day my mother had got hold of several fresh eggs, I heard about this, trotted into the pantry, grabbed two and smashed them together – mom rushed to get a basin and spoon to salvage what was left – I was not popular!
On another occasion, she got hold of a couple of onions, Aunty Clara (one of mom's sisters) visited, and was given one of the onions in a paper bag (no plastic in those days).   She climbed the stairs to the top of the bus, the bag broke and her precious onion rolled down the bus, we were told hotly pursued by Clara!
During the War, it became the custom that when there was a glut of eggs, these should be preserved in isinglass so that they could be eaten later.   One year Mom and Dad forgot one small bucket, at the back in the pantry, found it after two years, and gave me the job of taking it down the garden where I removed one egg at a time and threw it at the fence – the smell was remarkable!
At the beginning of the war, mom got 3 biscuit tins, filled them with essential non-perishables, e.g. tea, sugar etc. and gave one to 3 of her sisters, so that if we were bombed out, she would have some emergency rations.
Memories of school
I attended Church Road school for infants and juniors.   A number of brick bomb shelters had been built in the playground, but by 1943 when I started school, the bombing of Birmingham had really finished, so some of these shelters had been converted to scabies clinics.   I must add that I hated the idea of going to school, was taken several times by mom, and simply refused to join the other children.   One teacher saw what was happening, simply ushered me into the line, and I was in school.   As Mom walked back down Church Road, she could hear me howling and screaming!
My maternal grandmother, Mary Ellen Hands, had a great friend who married young and became Mrs. Clarke, and emigrated to New Zealand.   Mrs Clarke kept in touch all her life and sent Gran a weekly paper (with a pink cover) the Hawkes Bay News.   One day someone came to the door, Gran opened it, and there stood an Air Force Officer, who it turned out was Mrs. Clarke's grandson!
My family and I often travelled to Warwickshire to get away from the bombing.