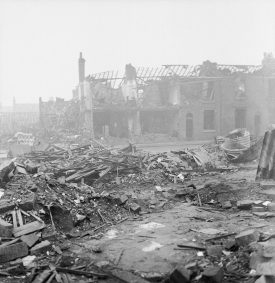 Image courtesy of Imperial War Museum, Ref D4126
Reference: https://commons.wikimedia.org/wiki/File:Birmingham_Blitz_D_4126.jpg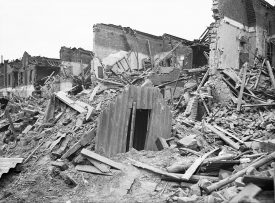 Image courtesy of Imperial War Museum, Ref: D5949
Reference: https://commons.wikimedia.org/wiki/File:An_Anderson_shelter_remains_intact_amidst_destruction_in_Latham_Street,_Poplar,_London_during_1941._D5949.jpg
I now live in Stratford, but I was born in Birmingham in 1938 and lived with my parents in Yardley, Birmingham until 1948.   Our street, Barrows Lane, was about half way between the Birmingham Small Arms Company, who were a large manufacturer of armaments, and the Rover factory and was therefore quite heavily bombed during World War Two.
Towns all over Warwickshire were bombed in the war so I don't expect my experience was so very different from what others within the county were going through at the time.  When a really heavy bombing raid occurred over cities like Birmingham and Coventry, the lit up sky could be seen all over Warwickshire.
There were two types of private shelters to protect people during bombing raids; the Anderson which was a corrugated iron affair partially sunk into the ground, usually at the end of the garden (we had one of those), and the Morrison, which was a metal table under which people were encouraged to go when the air raid warning was sounded.
Shelter Life
My first memory was of asking my mother whether we were going to the shelter for a picnic – the inevitable reply was "we'll see".
When the air raid warning sounded, mother grabbed me and carried me down to the shelter.   Inevitably as the shelter was partly underground, it became damp and smelly.  One day my father had begun to clean it out, but forgot to replace the steps before he went to work.  Mom fell and dropped me on my head – always my excuse for being an eccentric!
One night there was a big to do, our neighbours Horace and Ginny Williams, together with their lodger Mrs. Holland (Aunty Maggie) came rushing down to our shelter.   They hadn't heard the air raid warning at first; Aunty Maggie got up to go to the lavatory, and whilst there, an incendiary bomb came through the roof and set fire to her bed!   Despite having narrowly escaped, her most pressing concern was that she didn't have her handbag with her.  Horace's reply was not repeatable!   My father and Horace returned to their house, got the burning bed out of the window, and put the fire out with a stirrup pump.
Noise of the guns hidden by the radio
My father, Frank, had a blue radio set, I believe that it was a Philco, which ran on accumulators.   He always had it on, and I realised later that when the ack ack guns were firing, he always said that the noise was from the radio crackling.   Our favourite programme was 'It's that Man Again' featuring the Liverpudlian comic, Tommy Handley.   The accumulators were awful things, glass bottles filled with acid, which used to have to be taken to P. J. France, an electrical shop to be recharged.
A sad incident
One day there had been a particularly bad raid in Birmingham. While mom and I were in the queue for the water cart (the water mains had broken) we learnt that a great friend of my grandmother's, Monny Shingler, together with her sister, had been killed in the bombing.  Mom and I went straight home and Mom wrote to her mother with this very sad news as there were very few telephones in those days.
Shrapnel
Every morning after an air raid, I had to take a basket round the garden and collect all the shrapnel which had fallen from the shells.   When we left Birmingham in 1948 , I was sorry to leave my collection of shrapnel behind.
I also have memories of my school life and rationing during the war.