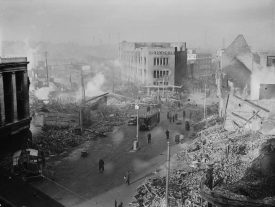 Image taken by Taylor (Lt) - War Office official photographer, courtesy of Imperial War Museum. H5600 Imperial War Museum Archives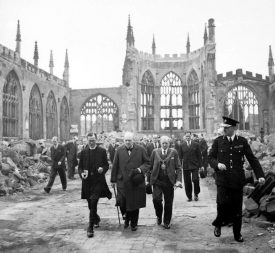 Image taken by Capt Horton, War Office official photographer, Courtesy of Imperial War Museum. H_14250 Imperial War Museum Archives
During World War Two I was working as a radio engineer and had already seen many nights of air raids over Coventry.
Everywhere was lit up
The night of the Blitz [14th November 1940], I met a policeman who said, "I think they'll give us a rest tonight". I replied, "we'll do what we do every other night and play it by ear".  Anyway, the Blitz started! I lived by the side of the Daimler Works which was up along the railway lines so they'd got a good target. They came in from the south west over Coventry and then dropped hundreds and hundreds of incendiary bombs all down the Daimler Works setting fire to the place. Well that lit up everywhere. They came in again. There were fires all over the place.
I got the car out and said to the wife, "Let's go over to Fillongley", (that's where my mother lived). I had a Hillman Minx; a super duper thing in those days. The 'sunshine roof' had just come on the market. I took the family over to my mother's place and left them and came back for the neighbours. I saw the local vicar — he was an ex-padre. He was in his element as he had lots of experience from his younger days in the First World War. Between us, we got the headmaster of the school to open up the school so that people could shelter there temporarily.
A chimney landed in my back seat!
I just went back and forth into Coventry and out again, taking anyone in the school back with me. On the way back on about the fifth trip I had a bomb go off behind me and that left a great big hole in the road (by the Wallace Pub in Radford on the Tamworth Road). Quite a lot of debris came into the car. There were no lights, no nothing. It was just pitch black. When I got back there were about three men left and I said what do you want to do. They thought of their wives and wanted to be together, so I started to drive them.
When I got to the Shepherd and Shepherdess there was a god almighty bang behind me and a flash and there was another hole in the road so I couldn't get out. I'd got a hole in front of me that I had to find a way round and I couldn't go back. It took me about half an hour to get out of this going up side entrances and along the lanes at the backs of the gardens which the dustmen used. I noted where I was and I eventually got through across somebody's garden. On the way back in there was an awful bang near me and I thought I'd had it and there was somebody's chimney in the back seat! It had come straight through the roof! And that was the end of the car. I had two flat tyres and a big hole in my roof!
Have a cup of tea!
When I got back the policeman who was doing all the marshalling said, "I shouldn't go and look at your house just yet Bill, come and have a cup of tea". My house had no roof on! I was glad my family were safe!
---
Originally published on the BBC's WW2 People's War website as the article The Blitz. This article has been reproduced with permission of the BBC, and Warwickshire Libraries.