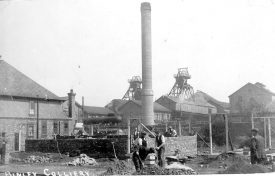 IMAGE LOCATION: (Warwickshire County Record Office)
Reference: PH, 350/269a, img: 562
This image is subject to copyright restrictions. Please see our
copyright statement
for further details.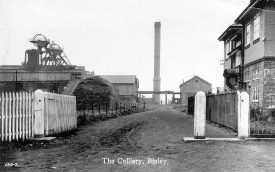 IMAGE LOCATION: (Warwickshire County Record Office)
Reference: PH, 350/269b, img: 561
This image is subject to copyright restrictions. Please see our
copyright statement
for further details.
The sinking of the Binley shafts began in 1904 by a company known as Merry and Cuninghame on land leased from the Earl of Craven. Sinking was completed in 1908 and the colliery manager, William McKee, was appointed. Due to its relatively short production shaft (919ft), the colliery had faster winding time, which made it the most efficient and prosperous colliery in the Warwickshire coalfield throughout the First World War. However, by the late 1920s, the colliery's efficiency became impaired by the lack of further investment.
Smoking cigarettes
By the time the coal industry was nationalised in 1947, Binley Colliery had become old fashioned and rundown. The National Coal Board invested in the colliery and brought it up to the required standard of the time. Binley Colliery was unusual as the smoking of cigarettes was permitted underground until nationalisation. After the Second World War, the miners of Binley became well known for the choir they formed, known as the Binley Colliery Choir. It featured on the BBC national radio several times, later being known as the City of Coventry Male Voice Choir.
During the late 1940s and early 1950s there was a national shortage of coal, and a government policy of coal at any cost was implemented. Many collieries were not economic at this time, however Binley Colliery remained profitable.
Modernisation and closure
Modern underground haulage with diesel locomotives were installed in 1951, and electric cage winding was introduced in 1953. Further investment was made to the surface in 1961; pithead baths and a new engine house were built, and a network of new roads were created. Investments were also made underground, and a number of new headings were driven to replace existing roadways. This underground investment was concentrated on the non-productive faces, while the productive faces were starved of the investment needed to improve the outdated essential machinery.
By September 1961, one of the two remaining coalfaces was closed because of water. Another face was opened; however, the colliery was closed in 1963 before it could begin production. The reason given for the closure of Binley Colliery was economical; the colliery would not be profitable for several years despite its vast coal reserves.
Records relating to Binley Colliery held at Warwickshire County Record Office.
References
Fretwell, L. (2005) 'Binley Colliery', The Warwickshire Coalfield, Vol. 4, pp. 142-145.
Northern Mine Research Society. (n.d.) 'Warwickshire Coalfield' [Accessed 30 March 2020].
Warwickshire County Record Office reference CR3166/1/4.