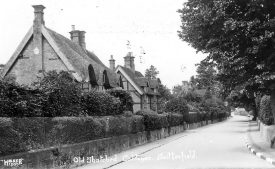 IMAGE LOCATION: (Warwickshire County Record Office)
Reference: PH, 352/163/28, img: 2509
This image is subject to copyright restrictions. Please see our
copyright statement
for further details.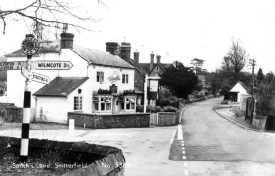 IMAGE LOCATION: (Warwickshire County Record Office)
Reference: PH, 352/163/29, img: 2510
This image is subject to copyright restrictions. Please see our
copyright statement
for further details.
I was still at school in Warwick when World War 2 was declared.  At first it didn't make much difference, except having to carry our gas-masks and putting the black-out curtains at home every night. My father joined the Home Guard. He had no uniform and no arms, I think he took a pitch-fork with him when he went on guard. During 1940, we had to share our school with one from Birmingham, we went in the mornings, they went in the afternoon.
I was living with my parents in Norton Lindsey, and as the war progressed, the bus service was curtailed which meant longer journeys during the middle of the day.
The Women's Land Army
After taking my School Certificate Exams I left school in July 1940 and went into the Tax Office in Northgate Street, Warwick. I didn't like office work and two years later joined the Women's Land Army. I was born on a farm and my father has always worked with Hereford cattle, so it seemed a natural choice. I had to work on a farm in Snitterfield, the landowner had six farms and I was based at Lodge Farm. Dressed in my new uniform, including leather boots (very stiff at first) I turned up nice and early on that first day. I was put in the care of an older experienced man and spent the day getting used to life on the farm.
Physical but fun work
I joined in March and soon it was potato planting, four girls sat on this planter towed by a tractor, planted field and field of potatoes. We sang the hours away, it was quite a happy time. Later it was hoeing, back-aching work that seemed endless. There was no milking, this was done separately in outside milking barns, before the milk was taken to the main dairy at Hatton Rock for sterilising and bottling. If it was wet,it was sack-mending or mucking out cowsheds. Hay-making involved sitting on hay-bales pushing wires through holes of hay which fell off the back to be picked up later. Harvesting involved long hours following the combine, baling the straw. The weather always seemed to be lovely, hot and sunny. When the potatoes were harvested we had children from a school in Stratford, not always very well behaved. I drove a little Ford Ferguson tractor up and down picking up the sacks of potatoes. I enjoyed that, they were called a "lady's" tractor.
VE Day
I was on holiday in Kington, Herefordshire on VE Day. My mother, aunts and cousin went up town to join the celebrations my cousin was laughing and crying, her husband and two brothers were serving in the Forces. We met a GI who tried to get us drunk, he didn't succeed. It was a great day.
I left the Land Army in October 1945, I had a touch of rheumatism in my arms; due I think to cutting kale in wet weather. I was glad to have helped the war effort, I had a lovely letter from the Queen Mother, thanking me for my service. I am 81 now and remember all the hardships of the war, but luckily didn't suffer any air-raids. I remember the night of the Coventry Blitz, standing in our garden with my father watching the planes going over to bomb Coventry and glow in the sky, we didn't know till later the extent of the terrible damage that occurred that night.
---
Originally published on the BBC's WW2 People's War website as the article Warwickshire Land Girl. This article has been reproduced with permission of the BBC, and Warwickshire Libraries.