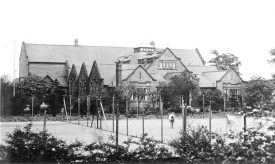 IMAGE LOCATION: (Warwickshire County Record Office)
Reference: PH, 352/135/179, img: 1806
This image is subject to copyright restrictions. Please see our
copyright statement
for further details.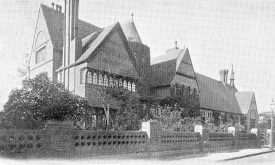 IMAGE LOCATION: (Warwickshire County Record Office)
Reference: PH, 352/135/72, img: 4415
This image is subject to copyright restrictions. Please see our
copyright statement
for further details.
Seventy years ago the first school children from Roanne (in the Loire Valley, France) arrived in Nuneaton. At that time the only schools involved were the two grammar schools – King Edward VI (boys) and Nuneaton High School (girls).
My brother was partnered with an exchange student and in 1966, they arrived to stay with our family in our 1930s semi. The exchange student was to sleep in my tiny box room while I slept on my parents' bedroom floor. He spent a happy two weeks with us and he and my brother became life long friends.
The exchange visit
When my brother travelled to Roanne for the exchange visit he found himself sleeping in a huge wooden bed in a massive bedroom in what was the local 'big house' of the village! The family owned a lot of farmland and a vineyard and had at least one servant. When my brother returned home he described the house and bedroom. My mother was mortified that the exchange student had slept in the tiny room in our Nuneaton house.
The story doesn't end here; there were more exchange visits through the twinning scheme. They kept in touch and in the 1980s, the exchange student and his wife and three children came to Nuneaton for a family holiday, as they had such happy memories.
The box room
They needed somewhere to stay, and as at that time we lived near my elderly parents, and we were to be away for five weeks in Ireland, we offered them our house. So their son ended up sleeping in our tiny box room – just as his father had!