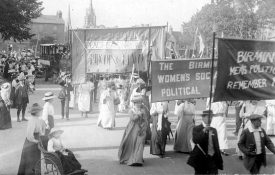 IMAGE LOCATION: (Warwickshire County Record Office)
Reference: PH, 350/2228, img: 2798
This image is subject to copyright restrictions. Please see our
copyright statement
for further details.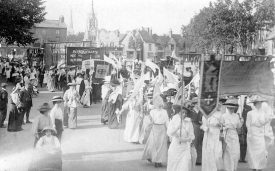 IMAGE LOCATION: (Warwickshire County Record Office)
Reference: PH, 350/2227, img: 2797
This image is subject to copyright restrictions. Please see our
copyright statement
for further details.
The fight for votes for women involved militants who were prepared to break the law – often called 'suffragettes' – in contrast to the law-abiding suffragists. Most suffragettes belonged to the national Women's Social and Political Union (WSPU) and it is believed many protagonists provided false names when arrested in order to minimise their sentence; as a result tracking their Warwickshire activities is not easy.
Hunger strikers
Suffragette Agnes Lake suffered under the 'Cat and Mouse' act whereby hunger strikers were released to recover and then re-imprisoned; she was released from Warwick prison in September 1913, followed by arrest outside her home in December.1 There was a harrowing report of hunger strikers in Birmingham who were: 'brought again to court in taxi cabs and carried before the magistrate looking weak and exhausted'.2 Nellie Hall was one of the individuals concerned; her fight was a family affair – both her mother and sister were suffragettes. It is believed she became involved in Warwickshire politics after her marriage to a local man. Like many other members of the WSPU she moved around the country and eventually emigrated to Canada.3 Prison sentences caused concern for others in the suffrage movement: in 1912 a letter from Lady Willoughby de Broke and four other suffragists deplored the destruction 'but imprisonment will not remove the root cause'.4
The Earl of Crewe spoke at a meeting in Victoria Park, Leamington in 1909: he was frequently targeted by the WSPU. On this occasion Bertha Ryland and a group of protestors climbed over the railings and hid for ten hours in order to heckle him.5
Bombs
Minor incidents, threats and bungled attempts at destruction continued during 1913 in Warwickshire. Post boxes were targeted at the main Leamington Post Office and in Willes and Adelaide Roads. Copies of 'The Suffragette' laced with petrol and phosphorus were used; some burst into flames but nobody was injured and no letters reported destroyed. The Leamington Spa Courier complained of 'Hare-brained tactics – attempt to fire the GPO'.6
Another target was the Birmingham and Stratford canal. A man found a heap of debris, a shovel and a length of fuse plus a gap 5 feet wide and 8 feet long in the embankment just three inches above the waterline. A piece of paper with the message "votes for women; mind your canals" was picked up by some children. It was claimed that a successful breach would have emptied 11 miles of canals.7 Many years later Maude Smith revealed that she had collected explosives from a house in Coventry.8
Marches
Several local suffrage groups joined a march known as 'The Great Pilgrimage' from Carlisle to London and although mostly peaceful there were some reports of disruption from militants and hooligans. At the top of Pitterne Hill near Kineton, a stolen gate displayed a 'Votes for Women' sign. After a night at Warwick, the marchers assembled in the Market Place and continued to Leamington led by the Leamington Spa Band. Stratford upon Avon was their next destination 'to pay homage to Shakespeare'. Reports state there was a little booing and some slight dissention at a meeting and during the procession, but generally the ladies were received with respect.9
This article is based on research carried out by volunteers at Warwickshire County Record Office; the resulting database on Suffrage in Warwickshire is now available on-linein the WW1 Records Database (sub-subject 'Women's Suffrage'). Many thanks to Jane Dennick and Anne Langley for their contributions to this article.
References
1 Warwick Advertiser, 27 September, 1913 p. 3, & 13 December 1913 p. 5.
2 Birmingham Daily Post, 3 June 1914, p. 3.
3 Nicola Gauld: 'Words and Deeds', West Midlands History Ltd. 2018, pp. 58 & 96.
4 Leamington, Warwick & County Chronicle, 15 March 1912, p. 4.
5 Leamington, Warwick, Kenilworth & District Daily Circular, 10 September 1909, p. 16.
6 The Leamington Spa Courier, 17 May 1913, p. 5.
7 Warwick Advertiser, 28 June 1913, p. 2.
8  Gauld: 'Words and Deeds', 2018, p. 79.
9 Warwick Advertiser, 5, 12 & 19 July 1913.