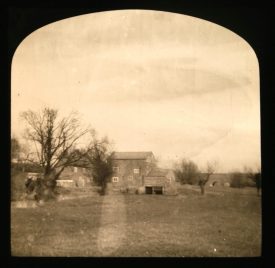 Courtesy of Warwickshire CC, Rugby Library Local Studies Collection; WCRO PH827/5/31; photographer Rev. E. Dew
There does not appear to be a mill here in the Domesday survey of 1086 although there were two in nearby Clifton on Dunsmore. The old photograph shows a railway viaduct in the distance belonging to the  London & North-Eastern line. After this point the river Avon used to skirt round Glebe Farm lying on the north side of Rugby; however around the time this photograph was taken the farm was sold and the site eventually developed into the huge British Thomson-Houston (BTH) electrical engineering works.
A cornmill until the late 19th century
Millers are recorded here in 19th century trade directories up until 1892 when Abraham Pittem was working here as a water miller. There are no further records of a miller thereafter and the mill was marked as 'disused' on the OS map of 1900.
The mill site today
The mill buildings have now disappeared (they would have been at the back left-hand side end of the reservoir shown in the modern photograph). A pine tree and some silver birches on the site probably stood in the garden of the mill. Today the 'mill gardens' south of the site commemorate the mill. Nowadays the river Avon goes under the disused London & North-Eastern railway line and the Oxford canal (which has a pleasant towpath that I walked along to take this picture). The old mill-stream for Brownsover Mill is now larger than the original route of the Avon and the mill pool has been converted into a small reservoir by Rugby Urban District Council as part of their Avon water works.
A trip down the River Avon revisited
This is part of a series of 'before and after' photographs based on the Rev. E.N. Dew's lantern slides for a talk about the Warwickshire Avon. The original photos date from around 1900 and the linked article explains the history of the photographs.