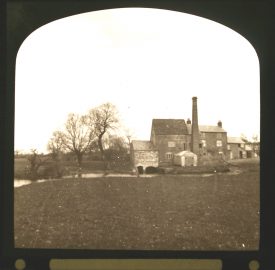 Courtesy of Warwickshire CC, Rugby Library Local Studies Collection; Warwickshire County Record Office reference PH827/5/30; photographer Rev. E. Dew
Two mills worth 11s. were recorded at Clifton on Dunsmore in the Domesday survey of 1086: this one and another north of the village near Newton, called Laund mill and then later Biggin Mill. The mill in the old picture shows a 19th-century extension with a chimney for a steam engine to provide more power: the Avon is still a small river at this point and there was not a large fall in the river to drive the mill wheel.The building beside it is said to date from the 18th century. In 1900 the mill lay on a mill-stream off the river, between an old canal arm (leading from Clifton old wharf to the Oxford canal) and a rifle range, both marked as 'disused'.
From mill to farm
Kelly's trade directories show that this corn mill was active until at least 1908 (when Humphrey Lee was a farmer and water miller). However by 1916 Joseph William Shaw – of Clifton Mill Farm – was listed as just a farmer, and from 1924 – 1940 James D. Key farmed the land.
Clifton mill farm and railway station
The 19th-century extension has now been demolished but some of the earlier buildings still survive as Clifton mill farm, which today is an award-winning cattle farm offering bed and breakfast. I think the old photograph shows the back of the buildings (where the water entered from the mill-stream), whereas my 'now' photograph shows the front of the farm. Remnants of the old mill stream can still be seen on the site and on the attached map.  There used to be a tiny Clifton mill railway station nearby (opened in 1864 but closed in 1953) and the railway line itself closed in 1966 as part of the Beeching cuts.
A trip down the river Avon revisited
This is part of a series of 'before and after' photographs based on the Rev. E.N. Dew's lantern slides for a talk about the Warwickshire Avon. The original photos date from around 1900 and the linked article explains the history of the photographs.