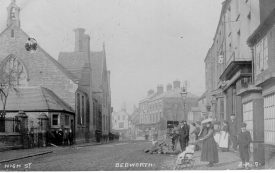 IMAGE LOCATION: (Warwickshire County Record Office)
Reference: PH, 352/27/12, img: 482
This image is subject to copyright restrictions. Please see our
copyright statement
for further details.
The air raid shelter referred to on the historic record 'may' have been used by the Bedworth Central C.E. Junior School which was demolished in late 1960s / early 1970s to make way for the first Bedworth health centre. This (first) health centre was demolished and the current Bedworth health centre (The one shown in your photograph) was built on the same site in 1996. I remember Bedworth Central C.E. Junior main school building having cellars beneath which 'may' be what has been referred to as this Second World War air raid shelter.
Cellars under the cottages
There were cellars running under the cottages in Cleavers Yard which was about 50 yards south of the health centre, on the other side of the road. These cellars ran from wall of the White Lion High Street public house cellar, all the way down to the bottom of the yard beneath about six three story houses and four two story cottages. These cellars were used as a community air raid shelter during the Second World War.
I seem to remember, my Grandfather, who lived at the end cottage in Cleavers Yard, telling me that the shelter could house about 200. I remember one elderly man telling me that when he was a kid his family would come from Longford (about three miles away) every night, to sleep in that shelter because they thought it was safer, drier and more comfortable than their Anderson Shelter.
Surviving the war
It survived the war and when I used to go down the cellars (even during the 1960s) at the bottom of the stone steps, there were still wartime fire extinguishers, fire buckets, stirrup water pumps and a coat rail with rusty ARP steel helmets hanging on the pegs. Cleavers Yard was demolished (I think) in the 1970s. A new building now stands on the site of the White Lion, which was demolished some years later, and I have often wondered if the cellars are still intact under the car park.