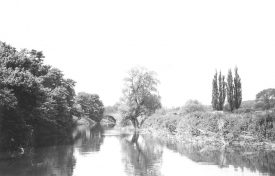 IMAGE LOCATION: (Warwickshire County Record Office)
Reference: PH, 15/12, img: 8186
This image is subject to copyright restrictions. Please see our
copyright statement
for further details.
The Leam was the first Warwickshire river I got to know; beyond Leamington, it has already wound itself across east Warwickshire through the villages of Marton, Eathorpe and under the Fosse Way.
The river Leam bisects nervously the cheeky town of Leamington Spa. There is also a Leamington Hastings a few miles away, which perversely was the larger of the two Leamingtons in the Middle Ages but fate ordained that Leamington Priors, a little further west on the Leam, and nearer to Warwick, the county town, was consumed by the 18th century spa craze and was thus renamed Spa. Apparently there was healing and restoration in those waters, so some physician declared, and the town gained fame, wealth and an air of respectability. The Leam flows on under the bridge by the church in the Old Town and makes its quiet way past the park and flows on towards Warwick, Leamington's older neighbour (they practically touch) and there joins with the statelier (and more famous) River Avon under Emscote bridge.
Bubbling up in Leicestershire
The celebrity river bubbles up in south Leicestershire and flows past Rugby and then south of Coventry, hidden now in undergrowth and under high walled bridges. Yes, it's there but you wouldn't know and few care! There is a wonderful path along the banks of the Avon, Shakespeare Way imaginatively enough, which is a joy to amble along and pulls you swiftly out of modern worries into a world of wonder – celandines in the spring, dragonflies silently humming in the warm summer evenings and the willows trailing their dainty fingers in the cool, clear waters.
It heads south from Warwick through St Nicholas Park with parents and pushchairs perambulating and parkrunners but the river is there, proudly, silently gliding past. There is ancient Warwick School behind the trees with its rowers speeding past but the river's gone on to the weir (which gives Warwick its name) at the foot of the once mighty battlements of the Castle and then on again to Barford with its stately bridge (now bypassed)  and on to Charlecote House (the seat of the Lucy family) and thence to Stratford upon Avon, the home of Shakespeare.