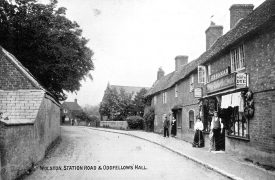 IMAGE LOCATION: (Warwickshire County Record Office)
Reference: PH, 350/2570, img: 6974
This image is subject to copyright restrictions. Please see our
copyright statement
for further details.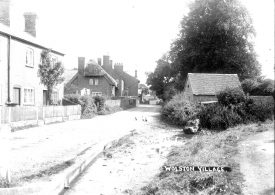 IMAGE LOCATION: (Warwickshire County Record Office)
Reference: PH, 226/333, img: 7627
This image is subject to copyright restrictions. Please see our
copyright statement
for further details.
I read Barry Bennett's article with interest, and have some comments and memories about the village of my own. During  World War Two, in addition to the three butchers shops there were two slaughter houses. One was behind Bourton Pages shop in Main Street. Jack Jenson's was in Brook Street on the opposite side to the cottages. The Lissamans shop became a small general store run by Miss Teasdale. Mrs Berry became the Postmistress assisted by her daughter Doris; they were also the telephone operators. Son Arthur was the Baker.
A variety of shops
On the corner of School Street and Dyer's Lane was Butler's. As you entered the grocery was to the left and drapery and haberdashery to the right. Butler's were also the Midland Red parcel agents; parcels were carried on the buses. The off licencees next to Avondale was George And Rose Bishop.
A famous lodger
My family lived at 3 Warwick Street. During World War Two George Lowry the Welsh and Coventry centre forward lodged with Mr and Mrs Chamberlain at No 2. The Valentine family ran the Garage in Brook Street. Harold Dudley was the landlord at the Half Moon and the Half Moon car park was previously Snell's cow pens and Snell's rickyard was next to Avondale.
Changes in seasons and years
Every Autumn Bomford and Eversheds Traction engine and Thrashing machine arrived in the village. After the war when my dad returned from the army my family moved to 13 Kelsey's Close. Bill the blacksmith and Mrs Castle lived at no 18. TW Cornfield was the builder and undertaker. When I left Wolston School at 14 I served a seven year apprenticeship with him as a carpenter and joiner; my mentors were Roland Butlin and Sid Gupwell. Rolly married Dot Webb. Sid's sister Barbara became Mrs Fred Cornfield.