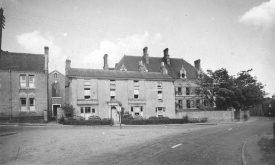 IMAGE LOCATION: (Warwickshire County Record Office)
Reference: PH, 352/165/9, img: 57
This image is subject to copyright restrictions. Please see our
copyright statement
for further details.
My name is Diana Mentor (nee Harris) and I currently live in New Zealand. I emigrated from the UK in 1954. Recently I was talking to my daughter about my life in England when my thoughts went back to my school days.
Safety in the country
In 1940 the bombing of Birmingham was at its height. My parents decided to send me to a boarding school in the country where it was safer.  Friends of my parents decided to send their daughter Julia to the same boarding school, so I was not going to be alone. The one they chose was the Our Lady's Convent. The entrance to the Church can just be seen in the first picture, between the two buildings in the direct foreground. The Nuns' living quarters were in the building in the centre foreground, and the boarders were housed in the larger building on the right of the photograph. Looking now at the old photograph of the Convent it looks very "Dickensian".  This building was demolished in 2015 to make way for some development.
So from 1940 to 1942 I was a boarder at Our Lady's Convent.  I was not  Catholic, but all Faiths were welcomed. We were two little girls away from their parents in a strange place, but at least we had each other.
Our parents would come to visit us alternate months, travel was restricted as petrol was rationed. They would take us out for tea in the village that was a real treat and one we looked forward to.
Away from home
I remember the dormitory rows of little iron bedsteads covered with white counterpanes. Each child had a chest of drawers next to their bed on which stood a wash bowl  and on a hook beside it their washbag. There were, as far as I remember around 12 girls of my age group in the dormitory room in which I was housed.  Being an only child, sharing my living space was rather overwhelming at first. I was very homesick, and I remember I cried rather a lot until I settled in. Our dormitory was supervised by a Nun who had a curtained partition in the corner where she slept, so giggling and talking were forbidden after lights out.
The refectory if I remember correctly was downstairs from the dormitory. We all sat at long tables and the food was served to us. In particular I remember the long French bread – this was delivered from the village baker. I remember it well for it was not white but a grey colour; we were always so hungry, as children are, so we didn't seem to mind it being an unusual colour.  Cooked swedes were served quite a lot. I hated them and even to this day, the very thought of them now turns my stomach.
Diana recalls other regular events during her time at the convent in part two.