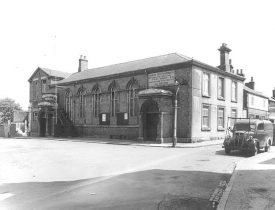 IMAGE LOCATION: (Rugby Library)
Reference: T, 726.5899.12, img: 6219
This image is subject to copyright restrictions. Please see our
copyright statement
for further details.
The Brotherhood House in Gas Street Rugby has an interesting and varied history. It was built as a Particular Baptist Chapel around 1803 with a vestry and a 3-stalled stable; by 1845 a schoolroom had been added in place of the stable. In the early 20th century, the chapel was sold to help fund a new Baptist Chapel in Regent Place.1
St Andrew's Parish Hall
In 1906 the building was bought by the rector of St Andrew's Church for £1,500 for use as a parish hall. Children from the Murray School used it as a dining room.
Brotherhood House
In 1932 the building was purchased by the Rugby Brotherhood and renamed Brotherhood House.2 Non-conformist congregations in Rugby had joined together in 1912 to form the Rugby Brotherhood. They recruited around 400 members and held regular meetings. By March 1913 they had an associated athletic club and in 1916, during the First World War, they sent Christmas cards to their members in the trenches.3 Brotherhood House became a lively community centre that was hired for various activities during the 20th century: a jazz club, a youth club, dances, jumble sales and rehearsals for the local theatre.
Subsequent History
More recently the building became the 1A Bar and Grill, but this failed.4 It is now derelict, fenced off, and the site is clearly ripe for redevelopment.
Do tell us if you have memories of activities in this building.
References
1 Warwickshire County Record Office reference CR 2718/1-4.
2 Warwickshire County Record Office reference CR 2718/5-9.
3 Langley, A., 'Paradise Lost: Primitive Methodism in Warwickshire', Warwickshire History, Vol. XVIII, 2, 2021, p. 89.
4 Comments on 'Past and Present Memories of Rugby and District' (private group)