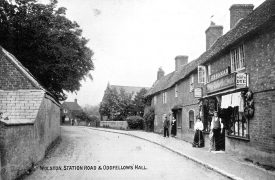 IMAGE LOCATION: (Warwickshire County Record Office)
Reference: PH, 350/2570, img: 6974
This image is subject to copyright restrictions. Please see our
copyright statement
for further details.
I've lived in Wolston for 82 years, and in the same house since 1936. The village has got a lot bigger, but there are less shops. One time there were four butchers, one greengrocer, one chemist, two grocers, a small general store, and two sweet shops – but those were like front rooms. My Mother used to help with Bernard Page's accounts.
A typical blacksmith
There were also two cobblers and a smithy, that became a wheelwright in the end. I can remember the Smithy in School Street. The fella that used to keep the Smithy was a fella that went by the name of Bill Castle. He was a typical blacksmith, a big thick set fella, and when he died or retired, there was a family lived next door called Fields. And the husband and his father they used it as farm carts and things like that, and a wheelwright. Eventually they emigrated to Australia, and the son became a big noise in Sydney, and the daughter married a speedway rider, Lionel Levy, that she met when he rode at Brandon – he got killed in the end in Australia.
Right opposite the Smithy, that's where the air raid shelter used to be, it was a surface air raid shelter, a brick built building, and to be quite honest with you I can't ever remember it being used! In the end, they boarded the door up!
A barber's, butcher's, and… library
The hairdresser's in Wolston has been a lot of shops in the past. It was originally a butcher's. They still had the old-fashioned airers in the ceiling when the barber took it over. That building was a library too, a private library – my mother was a librarian. It was during the war. I used to go in and read cowboy books and like Westerns, that was what it was. The lady who ran the off licence next-door, she used to go round on her pushbike and collect the empty bottles round the village!
In one of the houses next to the barber's as it is now, there was a very quiet family lived there, you never saw them. The father, he was blind. During the war, they used to collect money for dig the victory and spitfires and the like, and at the end of the war there was money left over, and the village decided to buy a braille watch for the blind people in the village, they didn't know there was a fellow living in a flat as well. He got a watch as well in the end.
The chemist was also an optician.
Half Moon – next door there was a family called Mumfords lived in the first one, and then Butlins lived in the next one, and their name's on the war memorial, several of the family got killed in the first world war.