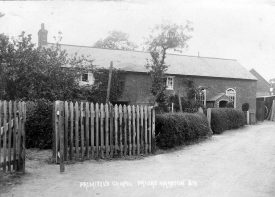 IMAGE LOCATION: (Warwickshire County Record Office)
Reference: PH, 352/119/47., img: 185
This image is subject to copyright restrictions. Please see our
copyright statement
for further details.
Primitive Methodists were meeting in a barn at the time of the religious census of 1851; the form was filled in by 'Precher' Charles Adams a brickmaker from Stockton.  The barn had free spaces for 30 people, who met on a Sunday morning: 25 people attending on the census day in March.1 It was said that the building had been erected in 1850, but I suspect this is the date at which it started being used for worship. Certainly the ironstone end-wall shown in the modern photo looks older than that date, and may well be part of the original barn.
From Barn to Chapel
The building was converted into a chapel in 1862. It had 120 sittings and cost £104; the debt had been paid off by 1895.2 The chapel appears in Warwickshire trade directories from 1872-1932 and on the 1st and 2nd edition OS maps (from the 1880s and 1900s). A little account book survives that gives a fascinating insight into life in the chapel in the early 20th century: the accounts mention a pulpit, cushions, an organ, hymnals, lamps, a stove and the wherewithal to make tea.3 Leamington circuit records show that there was a Sunday School active from at least 1895 until 1927, and a Band of Hope in the 1900s.4 Their Christian Endeavour Society had united with the Wesleyans and Moravians by 1918 (there was a Moravian chapel in the village). The Primitive Methodist chapel continued to be used for worship into the twentieth century but had ceased to be a chapel by the 1950s.
From Chapel to Home
The building has been converted into a house called 'Chapel End' that still stands off Keys Lane in good condition. The porch has been removed and the windows modernised, but the end wall reveals more of its origins, with an arched alcove feature. A stone plaque exists but is no longer legible.
References
1 1851 Religious census for Warwickshire, HO 129.407.1.17.25.
2 Warwickshire County Record Office  Leamington Primitive Methodist (PM) Circuit Station Reports, reference CR 1688/53. 
3 Accounts,  Warwickshire County Record Office reference CR 1688/126, 1905-33.
4 Warwickshire County Record Office reference CR 1688/53.