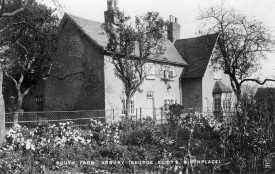 IMAGE LOCATION: (Warwickshire County Record Office)
Reference: PH, 352/63/49, img: 390
This image is subject to copyright restrictions. Please see our
copyright statement
for further details.
It is hard to think of Nuneaton without it being inextricably entwined with George Eliot. Such is the cultural resonance of the great novelist, that a hospital and school are among the institutions adorned with her name. The young Mary Ann Evans (more commonly known by her pen name of George Eliot) spent her childhood in and around the Arbury Estate where her father was employed by the Newdigate family as estate manager and land agent.
Letter from George Eliot to Mary Sibree, 10 May 1847
This letter was written from Mary Ann's home in the suburb of Foleshill, to the north of Coventry, where she had moved in 1841 with her father, Robert Evans. Upon arriving in Foleshill Mary Ann met two young women named Mary Sibree and Elizabeth Pears. It is to the former that this letter is addressed. Together they undertook charitable activities and in the course of their friendship Mary Ann also became acquainted with Elizabeth Pears' husband and her brother, Charles Bray. Charles Bray was an affluent ribbon manufacturer who also owned the Coventry Herald newspaper. He and his wife Caroline, or Cara, lived at Rosehill, a large house approximately one mile from Foleshill on the Radford Road. Here Mary Ann met a variety of independent and progressive thinkers, including such luminaries as Thackeray, Emerson and Herbert Spencer. In this letter, Mary Ann makes reference to having promised and failed to lend her friend a copy of 'Past and Present'. It seems likely that this refers to a work by Thomas Carlyle, by whom she is known to have been influenced. Like Mary Ann, Carlyle lost his faith at a relatively early age and wrote widely, focusing in particular upon German literature.
It is clear that the years spent at Foleshill had a formative effect upon Mary Ann's intellectual development. This letter makes reference to the lectures of Mr. Macdonald, providing some indication of the topics debated amongst the guests at Rosehill. In particular, Mary Ann's previously evangelical faith was profoundly shaken by the Unitarian beliefs of the Brays and the rationalist analysis to which she was exposed. Her father strongly disapproved of her eventual decision to renounce her faith, although Mary Ann agreed to continue church attendance for the sake of appearances until his death in 1849. Robert Evans' death marked the end of Mary Ann's period of residence at Foleshill. Following his funeral she spent time in Europe before deciding to pursue a literary career in London. Ultimately Mary Ann would write what might arguably be described as some of the greatest novels of the nineteenth century, including Middlemarch, The Mill on the Floss and Daniel Deronda, to name but three.
Transcription
Foleshill,
Thursday
My dear Mary,
I obtained your direction from Mrs. Sibree this morning that I might express my regret to you for having failed in sending 'Past and Present'. I did really get the book on the very day I promised to do so, but the next day my amazing faculty of forgetting together with a bad headache made me quite oblivious of the whole affair. This is no excuse, but it is something to be penitent – "Who with repentance is not satisfied is not of heaven, nor earth". So says Shakespeare, & as I am very sure that you are composed of some of the earth's best mould, I am not afraid that you will withhold your forgiveness. I am so sorry that Mr. Sibree has missed the opportunity of having that thrilling book, while he is at leisure (I am sorry to hear) an invalid. Pray tell him that it is still at his service when he comes home.
Clifton must look lovely under these smiling skies. I hope you are drinking in all kinds of profit & pleasure, & will remember everything to tell me when we are tête à tête. You are missing nothing good except Mr. Macdonald's lectures. He gave one last evening on Self-educated men, & there is to be a second this evening on the State of society. This is no caviare however, but very simple food, and I dare say you are getting much better where you are. Farewell until you come like a rosy beam of morning to smile on me in my study. In a hurry as usual,
Thine,
Mary Ann Evans