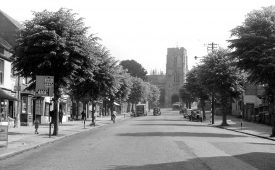 IMAGE LOCATION: (Warwickshire County Record Office)
Reference: PH, 599/841, img: 1432
This image is subject to copyright restrictions. Please see our
copyright statement
for further details.
Frederick Elisha Freer was a tent-maker and manufacturer of canvas goods throughout his life and many will remember his business in Smith Street and later West Street, Warwick.  He was baptised at St Nicholas Church, Warwick on 26th September 1875.  He lived with his parents, Elisha (a greengrocer) & Elizabeth Freer, in Smith Street.  In 1891 the census shows him as an apprentice tent maker.  By 1901 he was a tent and marque maker. 
On 25th September 1901 he married Agnes Sarah Green of 24 Coventry Road and the marriage certificate lists his occupation as tent maker of 44 Smith Street, and his father Elisha, as a dairyman.  He appears in various records, such as Spennell's Directory of Leamington and Kelly's Directory through the early 1900s as a tent and marquee manufacturer and by 1911 had two children Marguerite Francis and Constance Elizabeth. 
Government contracts
World War One broke out in 1914 and, when conscription [the compulsory enlistment of men to fight in the Armed Forces] was introduced in 1916, Frederick appealed to the tribunal, stating that his work as a sail, tent & waterproof cover maker was important for local farmers and that he had a Government contract to supply tents for hospitals and sub-contracts for ambulance hoods.  He was given temporary exemption. 
In April 1918, when he was 42, he was called up again. Two letters in support of Frederick's case for a second exemption were received, one from Eagle Engineering Co Ltd, Eagle Works, Warwick confirming that he had 2 months' work from 3rd June 1918 on direct Government contracts. The second letter was from Wingett Ltd, Engineering Department, Warwick, certifying that Frederick was supplying rope and tackle for the Admiralty National Shipyard at Chepstow.   
In support of his case, Frederick also included a typed list of current local work of 16 repairs and six new commissions including a wagon and binder sheet for Mr C Mills, Wroxall and a rick sheet for Mrs Smith-Ryland of Barford.  The National Service Representative's appeal was allowed and exemption granted temporarily until 4th August 1918, in the national interest.

Royal Air Force
Royal Air Force records show he joined up on 1st August 1918, service number 280710, and served in France from 26th August 1918 to 5th February 1919. 
After the war
Some readers may remember the regular weekly adverts he placed in the Warwick and Warwickshire Advertiser up to 1939, featuring the supply of materials from ropes and wagon covers to marquees.  At this time he and Agnes were still living in Smith Street and Frederick was now working as a master tent and cover maker.  His daughter Constance had married Harry James Badger, also a tent and cover maker of 78 West Street.   
Sadly, his wife Agnes died in November 1947.  Shortly afterwards he moved to 78 West Street, where his business continued until relocation to Emscote Mills, Wharf Street in 1999.   Frederick himself died in 1970. 
---
This story is part of the Warwickshire Bytes 'After the Tribunals' project, which ran from 2019 to 2020.