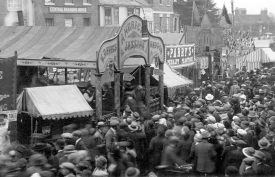 IMAGE LOCATION: (Warwickshire County Record Office)
Reference: PH, 352/172/59, img: 2574
This image is subject to copyright restrictions. Please see our
copyright statement
for further details.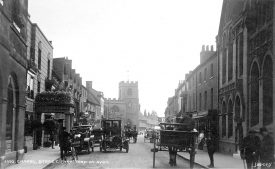 IMAGE LOCATION: (Warwickshire County Record Office)
Reference: PH, 352/172/32, img: 2560
This image is subject to copyright restrictions. Please see our
copyright statement
for further details.
Kenneth and Carl Huxley were born in Stratford to parents Thomas and Elizabeth. They had two sisters and the family were living in Evesham Road, Stratford, in 1911, when Carl was aged 30 and Kenneth was aged 19.  Their father Thomas ran a plumbing and decorating firm and his two sons were both working in the family business.  
In 1915, Kenneth was rejected for voluntary military service after medical examination showed him to have a weak heart and a serious defect in his left eye.  Instead, he invested in new equipment and by 1916 had set up in business as a sawyer. 
Following the introduction of conscription, both brothers were called up to fight and in October 1916 they appeared before the Stratford-upon-Avon Local Tribunal asking to be exempted, Kenneth on his previously unacceptable medical history and on the grounds of his occupation.  Carl stated that the family business needed him and that without him the business would fail and his parents would suffer financial hardship.  Both brothers were single at this time. 
One brother sent to war
The Tribunal ruled that Kenneth's business was not of sufficient national interest to secure exemption on occupational grounds and that his parents were also receiving financial assistance from his brother Carl. They consented to exempt Carl provided that Kenneth withdrew his application for exemption. A second condition was that Carl should continue with his existing occupation. The brothers agreed and Kenneth joined the army, serving as a Sapper with the Royal Engineers, whilst Carl remained at home. 
Kenneth joined up on 13th November 1916 and on his registration papers is described as a painter and plumber. He was 5ft 41/4 ins tall, weighed 122 lbs and passed his medical examination as Grade A; clearly his eye and heart problems were no longer an issue. His military service record shows that he served in the Royal Engineers, starting his training on 1st December 1916 at Chatham, and he was a 'plumber proficient' with a Certificate of Trade Proficiency. His service number was 212236. The Royal Engineers were vital for the war effort, responsible for maintaining roads, railways, bridges and transport, as well as the water supply – presumably the role in which plumbers like Kenneth were employed.  
Kenneth remained in the UK for almost nine months, joining his unit, the 11th Durham Light Infantry (Pioneers), on 1st October, 1917.  From 14th February 1918 he is shown as serving in the 12th Field Company No 11. 
Service in France
The 11th Durham Light Infantry took part in the November 1917 Battle of Cambrai, and Kenneth may have been involved. This was the first battle to use new artillery weapons and massed tanks and, although ultimately unsuccessful, is seen as the forerunner for later successful operations in 1918 which eventually brought the war to an end.  
Kenneth's military service record shows that he was wounded on 21st March 1918. This date is a significant one in World War One  history, known as the second worst day of military losses, after the first day of the Battle of the Somme, with the start of the German offensive to win back territory in Northern France, known as the Kaiser's Battle or Operation Michael.  
Kenneth's injury was not serious as he was back in action six weeks later, joining the 31st Field Company (127 Squadron) on 6th May 1918. He returned to the UK in September 1918. After the war, in May 1919, he was transferred to the army reserves in Chatham on 28th May 1919. 
Kenneth's brother, Carl,  had been fortunate to avoid military service.
---
This story is part of the Warwickshire Bytes 'After the Tribunals' project, which ran from 2019 to 2020.