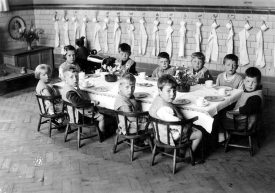 IMAGE LOCATION: (Warwickshire County Record Office)
Reference: PH, 220/180, img: 1294
This image is subject to copyright restrictions. Please see our
copyright statement
for further details.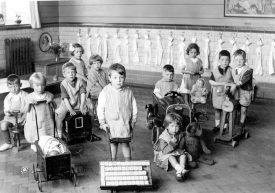 IMAGE LOCATION: (Warwickshire County Record Office)
Reference: PH, 220/173, img: 1291
This image is subject to copyright restrictions. Please see our
copyright statement
for further details.
After World War One William returned to his career as Headmaster of Southam School.  In March 1919 he was involved in setting up The Soldiers', Sailors' and Airmen's Association at Southam (as part of Rugby and District).  It began with five members but quickly grew.  Its actions included the decision to form a Sick and Dividend Club. William was one of three appointed as the Association's representatives on Southam's War Memorial Committee. It is possible that this association became part of a larger organisation which eventually became the British Legion.
William seems to have been plagued with ill health certainly after the war. In 1921 at a school managers' meeting it was noted that "the former Headmaster of the Boys' school attended the meeting looking exceedingly well. The managers congratulated him on his recovery from his long illness".  Despite this recorded recovery, he is reported in the paper as "retiring" in January 1921 when he would have been very young.
A return to teaching
However, the Coventry Herald reported in May 1925 that William, then Headmaster of Water Orton School, was appointed as Headmaster to George Street School, Bedworth, so this retirement was not permanent. While he lived in Bedworth he became one of the founder members of the Bedworth Schools' Athletic Association and was their Treasurer, showing that his enthusiasm for sport did not diminish when he gave up playing himself.
In his role as Headteacher of George Street School he regularly attended School Managers' Meetings. The minutes show that he fought for more teachers, more female teachers, space and general resources for the school. His attendance was patchy in autumn 1950, and in January it was minuted that he was not present due to illness. It was "hoped that he would respond to treatment and rest" . He was absent until October 1951 when "managers were pleased to see Mr. Grassam back and expressed the hope that he would continue to make progress".
Retirement
This considerable period of illness indicates that it must have been serious. He missed several meetings in summer 1952 and the next two years but no mention was made of reasons for the absences. But in 1954 the school log book recounts that he was "taken seriously ill on December 12th  and rushed to George Eliot hospital" where he underwent an operation for a perforated peptic ulcer. He was absent for several months.
He resigned in December 1955 and it was noted that "he will be very much missed after his long and faithful service in Warwickshire".  Again the school log book records that "the retiring Headteacher was presented with a box of cigarettes, a cheque for 21 guineas and a card on which was written: Presented to W.H. Grassam Esq. Headteacher 1925- 1955 by the Scholars, Teachers, the Secretary and Ancillary Staff as a token of affectionate regard and with all good wishes for a happy retirement blessed by good health".
Council work
William was also a member of Bedworth Urban District Council representing West Ward from 1928. Although a smoker, he supported the Bedworth ban on smoking at meetings which was proposed in April 1929.  He attended the very first meeting of the newly constituted Urban District Council and was involved at a strategic level in the setting up of new sub committees. He served on the Allotments, Recreation and Parks committee and represented the council on the Miners' Welfare Committee and pressed for asking the County Education Committee to give an increase of members on this committee.
True to form he arranged, together with another councillor, a football match at the opening of the Miners' Welfare Park in Bedworth. He worked on the provision of public conveniences in the park. He was also one of seven involved in planting trees there. He was present at the Tree Planting Ceremony in January 1930, where Sir Francis Newdegate  planted a tree given by HM Queen transplanted from Arbury Park. He also supported provision of a children's play area and was involved in the provision of public baths.
Despite his ill health, William managed to live until the age of 71.
This story is part of the Warwickshire Bytes 'After the Tribunals' project, which ran from 2019 to 2020.