The Manor of Hunningham has a history going back a thousand years.
This characteristic makes it of great historical and scientific interest in the context of studies on the history of European feudalism.
Domesday Book
The documented history of the Manor of Hunningham begins way back in 1086: the Manor of Hunningham appears in the Domesday Book, a very important manuscript, created by order of William the Conqueror, which collects the results of a vast census covering much of England and part of Wales. The manor may well have already existed prior to its entry in the Domesday Book. From this manuscript we learn that in 1086 the Manor of Hunningham belonged to William Fitz Corbucin.
John de Hastings and subsequent lords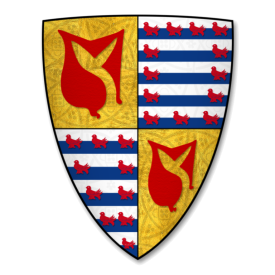 After Corbucin, many authoritative characters and illustrious men, who have marked the history of Warwickshire and played important roles in the history of England, have followed one after the other, as Lord of Hunningham.
Among the many historical figures, we remember John de Hastings, who in 1325 became Lord of Hunningham. He fought in the First Scottish War of Independence under King Edward II and was also governor of Kenilworth Castle.
In 1334 Lord of the Manor of Hunningham was William Trussell, son of Sir William Trussell, an English politician and rebel leader of Queen Isabella and Roger Mortimer, first count of the March rebellion against Edward II.
In 1353 the lordship of the Manor of Hunningham was held by Isabel, wife of Walter de Cokesey. Their son Sir Hugh de Cokesey died in 1445, then the lordship passed to his widow. When he died in 1460, the lordship of the Manor of Hunningham was inherited by his sister, Joyce Beauchamp, who died in 1473. Joyce Beauchamp was succeeded by his son, Sir John Greville. Sir John died in 1480 and was succeeded by his son Thomas, who changed his name to Cokesey, and became Sir Thomas Cokesey.
The Barons of Leigh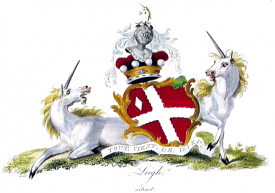 The history of the Manor of Hunningham is exciting and full of details told by historical documents stored in multiple British public archives.
From the studies carried out, we know that in 1695 the Manor of Hunningham was acquired by Baron Thomas Leigh.
With this transfer of ownership in 1695, a very important period in the history of the manor began.
The lordship remained in the possession of the prestigious Leigh family for almost 300 years, this long period has contributed to strengthening and preserving the manor, especially as regards to its historical identity.
The manor provided centuries of well-being under the guidance of the barons of Leigh, it was then sold in 1989 to Roy Chew, who held it for about 30 years.
A continuing story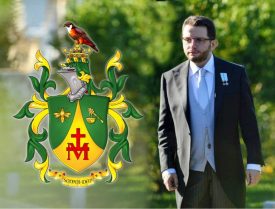 Today the Lord of the Manor of Hunningham is Dr  Luca Lombardi who owns all the rights associated with it. Dr Luca Lombardi is a historical and numismatic researcher, publisher, is a member of the life of the Manorial Society of Great Britain and other international historical societies. He is the author of books and scientific studies and organiser of international exhibitions and conferences. He is preparing a detailed book on the history of the manor based on historical documents. Further historical information is available on the Hunningham manor website