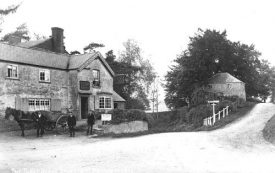 Reproduced with the kind permission of Warwickshire Libraries and Information Service; Warwickshire County Record Office reference PH 350/2281, Locke and England
18th and 19th centuries
The inn was originally three cottages built in the late 18th century (according to a recent owner). The old photograph shows the inn with the Fosse Way running past the front door (it's now been diverted a little further away). The first mention I can find of the inn's name is in 1816 when Anthony Warwick was the publican there. However he was also a local publican in 1811 and so the Three Horseshoes may well have been in existence then too. There's no mention of the inn or Anthony Warwick in 1806.
Richard Cleaver
By 1828 the publican was Richard Cleaver; he was paid by agent Joseph Elkington to provide a rent dinner twice a year for tenants of Mr. Peareth (a local landowner). In 1839 the dinner cost £3 4s 6d (Warwickshire County Record Office ref. CR 829/145). Richard Cleaver was still the publican there in 1853. He (or a namesake) was also a farmer in the village: this kind of dual occupation was common in small communities. By 1860 the publican was William Chamberlain (formerly a carpenter); Henry Chamberlain (his son) was in charge by 1866 and in 1874 he was described as 'victualler and joiner'. By 1880 William Shepherd was the publican and in 1896 the first woman publican appears – Mrs. Jane Shepherd (William's widow I assume).
More recent history
An evacuee from Coventry reported that the Three Horseshoes was a sociable pub during the second-world war, frequented by a group of locals who all seemed to know each other; his father used to meet his Home Guard friends there. This inn hosted a lunch on June 12th 2006, as part of the commemoration of the death of drainage pioneer Joseph Elkington 200 years earlier (grandfather of the Joseph Elkington mentioned above).
The above information is drawn from Trade Directories, 19th century censuses and the licensing applications, now available online (Warwickshire County Record Office ref. QS 35/2).