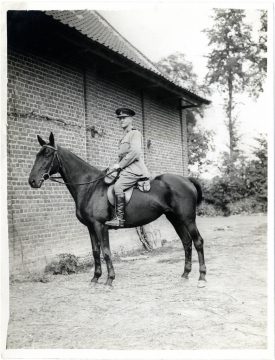 Photographer: H. D. Girdwood. From the Girdwood Collection held by the British Library. Originally posted to Flickr.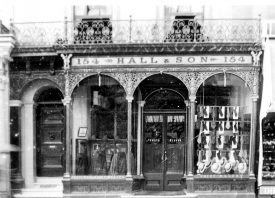 IMAGE LOCATION: (Leamington Library)
This image is subject to copyright restrictions. Please see our
copyright statement
for further details.
I had a look through the day book from the 'Hall & Son, Tailors' collection held at Warwickshire County Record Office1.  Hall & Son were based at 154 The Parade, Leamington Spa.
The day book (1913-1916) listed the garments made or repaired each day, including the cost and the customers' names.  Several of the entries concerned army uniform.  I hadn't realised that the World War One officers provided their own uniforms.  The items supplied ranged from service jackets, Bedford cord breeches, and British Warmer overcoats down to shirts, service caps, collar badges and stars.  Uniform (grey-green, not khaki) for the Volunteer Training Corps was also bought.
Local men
Some customers purchased uniform several times over the years so perhaps these were local men.  One certainly had local connections, Rev Ronald Irwin who served as Chaplain to the Indian Army.  After World War One he became the Vicar at Lillington.  From 1914 to 1916 he bought several jackets and breeches, and had items cleaned and repaired before being sent back to him in France
Two examples from the day book show:
On 8th December 1914 for Rev R Irwin: Parcel to France. Tunic & breeches cleaned & repaired, charge for Parcel 1/-9d, repair 4/-6d
On 20th November 1915 for Rev R Irwin: 1 khaki Chaplain's service jacket, 1 Pair khaki Bedford Cord breeches with strapped buckskin, charge for Jacket £1, breeches £2-12-6d
The This is Money price inflation calculator indicates that £1 in 1914 would be worth about £104 today
This text has been adapted from an exhibition which was curated with the help of volunteers working on the Heritage & Culture Warwickshire World War One project. For more information, please follow the link.
1 More details of customers and uniforms supplied can be seen on the World War One records database, using collection number reference CR3446