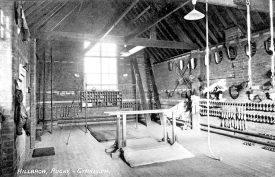 IMAGE LOCATION: (Warwickshire County Record Office)
Reference: PH, 352/152/343, img: 2292
This image is subject to copyright restrictions. Please see our
copyright statement
for further details.
John William Joseph Vecqueray, the founder of Hillbrow School, handed over to Thomas Bainbridge Eden (b. 27.4.1845), who brought with him his small school, Orwell House, from Clifton upon Dunsmore, Warwickshire. His wife was Horatia Katherine Frances Eden (née Gatty), sister of the famous writer, Juliana Horatia Ewing. The 1891 census was undoubtedly taken during the school holidays, as it shows only Horatia Eden and four servants.
1901 census
The 1901 census shows Eden, his wife, Margaret Mayler, the secretary,1 four tutors, a matron, nine servants, forty boys (including Rupert Brooke) and a visitor. Other famous pupils around this time were James Strachey, brother of Lytton Strachey and the translator of the complete works of Sigmund Freud, and Duncan Grant, the artist and member of the Bloomsbury set.
In 1908 Eden was succeeded by James Eric Armstrong Lush (born c1866 or ?1869 in Co. Sligo Kiglan). I think I can already recognise him in an 1889 school photo, just after Eden took over. Perhaps Eden recruited him – he would then have been around 20. Lush is still the headmaster in the 1911 census, with Thomas Frederic Burdett (b. 1884 in Aylestone) his partner; there are also two assistant schoolmasters, 30 boys, nine servants, a matron-domestic and Margaret Mayler now shown as 'Lady Matron' (born in Taunton).
The Rugby Almanacs show Lush as headmaster up to the 1914 edition, which probably reflected the situation in 1913. After that only Burdett's name continues, so Burdett must have taken over around that time. Confirmation that this is so comes from the 1913 school photograph, in which Burdett is the headmaster, but Lush continues in all the surviving photographs up to and including 1919 (that is 1913, 1914 and 1919), and only disappears in the 1921 photograph. Why he didn't continue in the Almanacs is unclear, but it rather looks as if Burdett and Lush exchanged roles around 1913, with Lush continuing as Burdett's deputy, while possibly living elsewhere, or at least not being reported to the Almanac as being there. Lush died in 1960 in Brighton.
A transfer to Overslade
In January 1917 Burdett transferred the school to Overslade, a building which had up until then been used by other preparatory schools, as well as by a couple of private owners, since its construction in the 1850s. In 1921 my grandfather, William Scarth Dixon, negotiated the purchase of the school from Burdett, and in January 1922 he began his long headmastership with only eight boys – he'd been promised a 'going concern'!
The school was attended in the '20s and '30s by both my parents (my mother being a rare girl in the school), four uncles and several cousins. The total number of pupils averaged around 40.
1 Mentioned by Hubert Leslie, the silhouettist and old boy of the school, in his autobiographical sketch, Artful Art and Breathless Brainwaves.