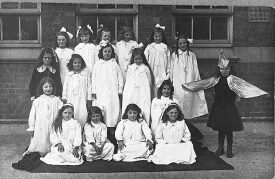 IMAGE LOCATION: (Warwickshire County Record Office)
Reference: PH(N), 893/19, img: 10052
This image is subject to copyright restrictions. Please see our
copyright statement
for further details.
My mother died when I was nine, but I was looked after very well by neighbours. My father remarried when I was 13 and my stepmother was a kind lady.
I attended the Stockingford Church of England School. The Infant School was for ages three to four; its headmistress at the time was Mrs Alexander. When I moved to senior school, our headmasters were Mr Pick and Mr J. Jergson. The other teachers that I remember were Mrs Rick and Mr Horsnall as well as our sports teacher, Ms Osborne, who came to school on her motorbike wearing leathers!
Milk, nits, and lessons at the council school
In the mornings, we used to have hymns and prayers before the lessons started. On some days, we went to the council school for lessons–cookery for the girls and woodwork for the boys– though for sports we had our own field. Our walk to the council school took us via Paddiford Place. In school, an important event for us used to be the District Nurse visiting us every month to check our hair for nits and other such things. I also remember particularly the bottles of milk that were supplied to us and the lovely, big, roaring fire in the winter where we each took it in turns for 'a warm'.
In my last year of school at Stockingford, I became the head girl. Our headmaster was a very good man and a good musician. He played the church organ and the piano. He inspired us to learn classical music, which was a lovely thing to learn.
Leaving school
I left school in 1938 aged 14. I was interested in working in a shop and hoped to find work with J.C. Smith's in Nuneaton, which is now Debenhams. I had an interview with Mr Jack Smith and he offered me the job. For the first few years, I served on different counters– starting on the haberdashery counter and then moving to others–to learn the trade.
Unfortunately, the war came in 1939. The staff of J.C Smith's did fire watching during the night. We had a dormitory on the top floor with beds in, and table tennis for the quiet times. Many incendiary bombs were dropped causing fires on the roof, which we had to extinguish. This only happened occasionally. Still, thinking how lucky I was, and thinking of the men and women in the forces, I did my job knowing I was helping the war effort.
Regrettably, I had to eventually leave J. C. Smith's to work in a factory for war work.
This article was published as part of the Warwickshire in 100 Objects project, part of Warwickshire Bytes.