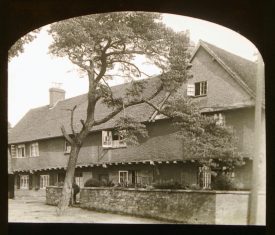 Courtesy of Warwickshire CC, Rugby Library Local Studies Collection; WCRO PH827/5/33; photographer Rev. E. Dew
The Rev. Dew departed even further from the course of the Avon to include a couple of pictures of Dunchurch that I thought worth including in our trip. I wasn't sure where this photo was taken and was wandering around Dunchurch looking for it when I suddenly realised that it was in fact Guy Fawkes' house looking very different because it was covered in render. Black and white exposed timbers are a fairly modern enthusiasm, and someone has clearly stripped off the render to expose the timber frame since this photo was taken.
Gunpowder plot connections
The house has a plaque saying: 'GUY FAWKES HOUSE. 5th November 1605. This was the old Lion Inn where the gunpowder Plot conspirators met on fifth November, 1605 to await news of the destruction of Westminster. Upon the arrest of Guy Fawkes their plan to seize Princess Elizabeth from nearby Coombe Abbey was abandoned and the rebellion which led to their defeat three days after the fifth was planned by the conspirators here at the Lion. To commemorate these connections this old inn goes by the name GUY FAWKES HOUSE (Dunchurch Parish Council. A.D. 1951).' So Guy Fawkes never lived here and nor did he own the property.
Who was Princess Elizabeth?
Those of you with a good memory for dates will immediately realise that this could not be the young Queen Elizabeth I (who died in 1603). In 1605 the monarch was James I; the Princess Elizabeth was his eldest daughter and sister to the future Charles I. In 1605 she was nine and being educated by Lord Harington at Coombe Abbey. She wasn't a Catholic, but the conspirators planned to convert her and use her as their figurehead. Later on she married Frederick V, Count Palatine of the Rhine, and became – briefly – Queen of Bohemia. She had thirteen children and lived abroad until 1661 when she returned to England, where she died a year later. Her main importance with regard to British history is that one of her grandsons (the son of her youngest daughter Sophia of Hanover) became King George I.
A trip down the River Avon revisited
This is part of a series of 'before and after' photographs based on the Rev. E.N. Dew's lantern slides for a talk about the Warwickshire Avon. The original photos date from around 1900 and the linked article explains the history of the photographs.